In soccer, Somalis find a link to home
The national team unites a scattered diaspora and provides a reason to cheer for war-torn Somalia.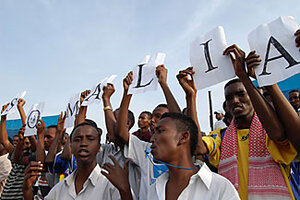 Max Delany
For all of his adult life, Ahmed Mohamed Farah has only seen the country he represents in news footage of war, killings, and starvation. Now studying for a business degree at Carleton University in Ottawa, Mr. Farah says it was a strange feeling the first time he pulled on the national soccer jersey of his distant homeland: Somalia.
Fourteen years ago, Farah and his family fled the spiraling fighting in Somalia, heading to the Middle East before ending up in Canada. After being spotted by scouts at a Somali football tournament in Toronto last year, he was tapped to play for the national team – nicknamed the Ocean Stars – in a recent regional championship in Uganda. But he won't be heading back to Somalia anytime soon.
Better known for the film "Black Hawk Down," a ferocious Islamist insurgency, and piracy, Somalia has been dubbed the most dangerous place in the world. It has only a weak, ineffectual transitional government and no functioning state, and it has been more than 20 years since the national team has been able to play a match in the country. In the war-ravaged capital Mogadishu, Islamist rebel groups battle African Union peacekeeping forces – and each other. Somalia's national league has been suspended for years now. In these conditions, it is a miracle that the country still has a soccer team.
But soccer – or just the existence of the national team – has become a focus for hope in this shattered nation and the country's huge diaspora around the world. At the regional CECAFA East African soccer championship in Uganda in January, hundreds of Somali fans formed a backdrop of constant noise and color. Setting tribal differences aside, men bounced up and down in the deep blue colors of the national team. Women had turned the national flag into the traditional dress of headscarves and flowing dirac robes.
"We have waited such a long time to see our flag raised and have our anthem sung in front of us. Even though we are not in our country, our hearts are big for the team," says Ali Abdirahman Warsame, who left Somalia for Uganda as a toddler. "Football is like a religion – it unites us."
Despite the support in the stands, Somali football is desperately short of funding. Because of the situation in their homeland, the team has had to shift training to neighboring countries. "Before this tournament, we were training in Djibouti," says long-time national coach Ali Abdi Farah, who still lives in Mogadishu. "Djibouti is now our home stadium."
Given the hardships they face off the field, it is hardly surprising that the Somali team languishes in the bottom 10 of Fifa's world soccer rankings. Like Farah from Canada, an increasing number of players are being drawn from Somali communities around the world. Now almost half the squad lives outside Somalia. They come from communities in the US, Canada, Britain, and Norway.
For the Somali players, international soccer is rarely as glamorous as it is made out to be. The foreign-based players had to cover the cost of their airfares to get to the CECAFA tournament. Once there, they had to wash their own uniforms.
But things could be looking up for the Somali team. Despite crashing out in the group stages of the East African tournament, they recorded their first victory in five years, beating local giants Tanzania 1-0. With a young, united team, soccer could help bring this broken nation together, says team captain Isse Abshir, who plays for Norwegian team Lillestrom.
"It was incredible, the congratulations from all over the world that we received when we beat Tanzania," Mr. Abshir says. "This is the real government of Somalia – the football team. This is the image that we have to show the world."