Q & A: How did Guinea erupt into violence?
Troops loyal to military junta leader Moussa Dadis Camara fired live rounds into a crowd of protesters Monday in clashes that killed more than 150. Why?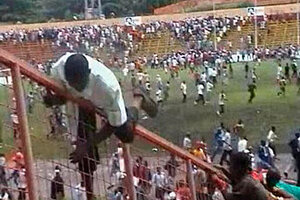 Reuters TV/REUTERS
Johannesburg, South Africa
The massacre of civilian protesters by a military junta in Guinea has created another potential flashpoint in Africa. More than 150 protesters died Monday during skirmishes between protesters and Guinean troops, according to a local rights group. The junta claims that most of the victims were crushed to death as the protesters tried to flee the stadium, but eyewitnesses said troops killed scores by firing live rounds into the crowd. Human Rights Watch reports that some soldiers bayoneted citizens and raped women in the streets.
The victims of this massacre are opponents of the military regime who gathered in the tens of thousands for Monday's protests, which were called after reports that the leader of the military junta had reneged on promises not to run for president in upcoming elections.
The military junta of Captain Moussa Dadis Camara was originally welcomed by the public when it came to power in a bloodless coup on Dec. 23. 2008, following the death of then-president Lansana Conte. But Mr. Camara's junta has faced increasing pressure from within the country – and from Western donor nations and from the African Union – as it has refused to step down. Just last week, the AU threatened possible sanctions against Guinea.
The Monitor asked Richard Moncrieff, the head of the West Africa office of the International Crisis Group, a Brussels-based think-tank, to explain the roots and possible solutions for the current conflict.
CSM: What is behind the violence? Were there any warning signs that the military would use violence against the protestors?
Moncreiff: "I think there have been warning signs for quite a long time. Ever since the junta came to power and even before that – in the riots of 2007 – the military has acted with impunity. They have a record of shooting without provocation and without warning. So this is not particularly surprising."
What are the protests about?
"People don't want the military in power. I think there was some public support for the military, because they came to power in a bloodless coup and that was unexpected. But their support has diminished."
Who is Capt. Camara, and why did he launch a coup last year?
"Before the coup, Dadis Camara was completely unknown. He has no natural base of support. Since he came into government, he has tried to gather support by dishing out money, by giving out [government jobs], but it hasn't worked."
Could the violence spread?
"There is a danger of the violence spreading. Guinea and Liberia share a border, and Liberia has just come out of a civil war. Dadis Camara comes from an ethnic community that is on both sides of the Guinea-Liberia border. So the first and most important scenario we have to be concerned about is rising tensions along the border area."
What is the world prepared to do to stop the violence?
"I think there has to be constant international pressure and for the military to realize they have no impact in the country. In addition to Africa Union sanctions, they [the military] need to be offered a way out in order to save the country from further violence. Whether this can be done or not, I don't know."
After the Monitor spoke with Moncrieff, Guinea's former colonial ruler, France, led international condemnation of the massacre and promised action.
"France has decided to immediately suspend military cooperation with Guinea. It is also reviewing its entire bilateral aid," French Foreign Minister Bernard Kouchner said. "At our request, the European Union will meet tomorrow in Brussels to examine additional measures, particularly against individuals, that could be taken swiftly."