Uganda election: Four reasons donor nations won't turn their backs on President Museveni
As recent events in Egypt have shown, international support for aging despots can wane quickly once crowds hit the street and violence kicks off. Uganda's President Yoweri Museveni, in power now for 25 years, already faces declining support outside of his country – but it's unlikely he's going anywhere just yet. It's almost certain he'll win the official count in today's presidential election. Here are some reasons why the international community might not want to push Museveni too hard: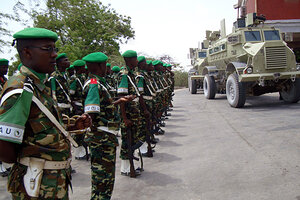 Ismail Taxta/Reuters
1.

Somalia

Ugandan troops currently make up the bulk of the African Union's peacekeeping mission in Somalia, AMISOM. The sole peacekeeping force in the war-ravaged country, AMISOM is the only thing stopping Islamist militant group Al Shabab from routing the feeble United Nations-backed government and taking over entirely. If Museveni pulls out the Ugandan troops, he pulls the plug on AMISOM. If AMISOM goes, the government collapses and the international community are left to pick up the pieces and start from scratch.

Although US Deputy Secretary of State James Steinberg said recently that Uganda's involvement in AMISOM won't stop the US speaking its mind on the elections, last July's Al Shabab suicide bombings that killed at least 76 people in Kampala have only served to strengthen the sense of international gratitude felt toward Museveni for providing troops in Somalia.