The International Criminal Court's docket in Africa
With the confirmation of charges against four senior Kenyan leaders, there are now seven different countries where the International Criminal Court has filed charges of crimes against humanity. All of those cases emanate from Africa.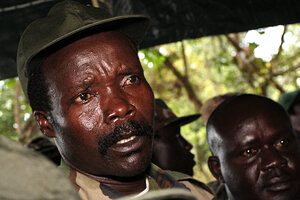 Stuart Price/AP/File
1.

Uganda charges

The case against Joseph Kony, and four other senior leaders of the Lord's Resistance Army rebel group is one of the ICC's first cases, referred to the court by the Ugandan government in December 2003. The LRA is a Christian militia founded by Mr. Kony to fight for the Acholi ethnic group of northern Uganda. But it has morphed into an ill-defined mass-murder movement for hire, drawing members – often child soldiers, usually by abduction – from several countries: Democratic Republic of Congo, South Sudan, and the Central African Republic. Twenty-one counts of war crimes and 12 counts of crimes against humanity have been filed against Kony and the other leaders (Raska Lukwiya, Okot Odhiambo, Dominic Ongwen, and Vincent Otti). Lukwiya was killed by Ugandan military in Aug. 2006, but charges remain against the other four, who are fugitives.