Somalia: A timeline of change in a troubled country
Since the end of the cold war in 1991, Somalia has gone from US client state, balancing the power of the Soviet-backed Ethiopia, to a civil war torn country dependent on foreign aid for survival.
Despite a number of foreign interventions to secure the passage of food aid to civilians in the past two decades, none have managed to diminish the power of religious and clan militias, or create a strong central government capable of rebuilding a peaceful country.
Here is a timeline of changes, intervention, and mediation in 5 bite-sized bits: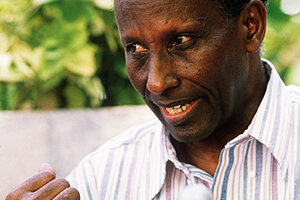 Alexander Joe/AFP/File
1.

1991-1995

January 1991: Somali President Siad Barre's government is forced from power. By November, a struggle among clan warlords pushes Somalia into civil war. In the meantime, thousands of civilians die of starvation in a region-wide drought.

February 1992: Rival commanders sign a UN-sponsored cease-fire. And the UN deploys peacekeepers under a newly created United Nations Operation in Somalia (UNOSOM) to observe the cease-fire.

But fighting continues to escalate. In December, US Marines join UNOSOM.

1993: US forces target Somali warlord Mohammed Farah Aidid, who along with his rival warlord Ali Mahdi Mohamed are using food aid as a lever for power. About 2,000 people are killed in clashes between the US marines and Aidid's forces.

June 1993: 24 Pakistani peacekeepers with UNOSOM are killed by forces loyal to Somali warlord Aidid. This prompts nothing. The UN continues to operate as before.

October 1993: 17 US army rangers are killed in the famous "Black Hawk Down" incident, when US helicopters are shot down in Mogadishu, and the Rangers mount a rescue mission.

March 1994: The US ends its mission in Somalia. A year later, the UNOSOM mission ends in failure.