Is Liberia turning into a haven for militant groups - again?
Human Rights Watch issues report saying Liberia is failing to control rebel groups launching raids into neighboring Cote D'Ivoire. Liberia rejects the charges.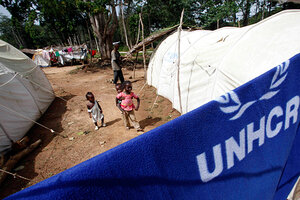 Thierry Gouegnon/Reuters
The Liberian government has lashed out at a human rights group for a new report that accuses it of ignoring war criminals from the Ivory Coast who are continuing to recruit mercenaries for deadly cross-border attacks.
The Human Rights Watch Report accused the government of "burying its head in the sand" and failing to detain, prosecute, and extradite those who committed some of the worst atrocities during the Ivory Coast's 2011 post-election crisis and then fled to Liberia. 
The Ivorian crisis officially ended with the April 10, 2011 capture of former Ivorian President Laurent Gbagbo, who had refused to step down when opposition candidate Alassane Outtara won a Nov. 28, 2010 presidential runoff election that was deemed free and fair by the international community. An estimated 3,000 people were killed during the fighting between forces loyal to Gbagbo and Ouattara.

Test Your Knowledge
Could you pass a US citizenship test? Find out.
Since last July, Liberian mercenaries and Ivorian fighters recruited by loyalists to President Gbagbo have engaged in cross-border raids in Western Cote d'Ivoire that have killed an estimated 40 people and displaced thousands. The most recent cross-border attack on April 25 occurred in the Ivorian village of Sakré, near the Taï border, and left 8 dead. Human Rights Watch claims that the majority of those killed in the attacks have been civilians from ethnic groups who largely support President Alassane Ouattara. The human rights group also estimates there are between 100 and 150 people "who have either participated in past cross-border attacks or are organizing for future attacks." But the report adds, "the number could be larger."
The scale of child recruitment
The report also says training camps are operating in the Liberian county of Grand Gedeh and recruiting children to fight in these attacks, but noted "the scale of child recruitment was unclear."
The United Nations Panel of Experts on Liberia noted the presence of mercenaries in a December 2011 report and the UN Secretary-General's special report of April 2012 said that potential cross-border instability continues to be of concern. Liberia and Côte D'Ivoire share a porous 700-kilometer frontier of thick jungle that is difficult to patrol.
Human Rights Watch claims the Liberian authorities and judicial system are failing to effectively address the issue through detaining, extraditing, or prosecuting suspects who have being implicated in war crimes in Côte D'Ivoire. Among the suspects is Isaac Chegbo, whose nom de guerre is "Bob Marley."  
Human Rights Watch implicated Mr. Chegbo in overseeing two massacres in Côte D'Ivoire in which more than 100 people were killed. He was released on bail in February and his whereabouts are unknown to Liberian authorities. Chegbo's deputy A. Vleyee, better known as "Bush Dog," was accused of overseeing human rights violations by HRW and is also suspected of being in Liberia.
"For well over a year, the Liberian government has had its head in the sand in responding to the flood of war criminals who crossed into the country at the end of the Ivorian crisis," stated Matt Wells, West Africa researcher at Human Rights Watch, in the report. "Rather than uphold its responsibility to prosecute or extradite those involved in international crimes, Liberian authorities have stood by as many of these same people recruit child soldiers and carry out deadly cross-border attacks."
Not only Liberia
The rights group also criticized Ghanaian authorities of failing to act on arrest warrants and extradition requests issued by the Ivorian government for members of Gbagbo's political and military elite, many of whom are allegedly funding the attacks from Ghana. Among those believed to be in Ghana is former President Laurent Gbagbo's youth militia leader, Charles Blé Goudé. 
The Liberian government, for its part, says that while Liberia does have problem with "non-state actors" along the border, it is doing everything possible to address the issue. At a press conference, Lewis Brown, the Minister of Information, claimed the report was inaccurate and based on hearsay and ignored the efforts the government was making.
"We are not saying that along the vast border areas between La Cote D'Ivoire and Liberia that we do not have on either side of the border the presence of non-state actors," Mr. Brown said at a press conference at the Ministry of Information in Monrovia. "We are saying that the report makes what we believe is an outlandish claim that the government of Liberia is doing nothing."
Brown also said the report suggested Liberia was helping fuel conflict in the region, a sensitive topic given Liberia's recent history and the recent guilty verdict and sentencing of Charles Taylor in the Hague last month, for aiding and abetting the civil war in neighboring Sierra Leone. 
"Liberia is not in the business of fanning the flames of insurrection of a neighboring country, we are not and this report tries to suggest that we are doing that," said Brown. "It is unfair to Liberia and unfair to Liberians."
Lashing out at rights groups
He also hit out at the rights groups for failing to underline the security threat the presence of "non-state actors" on the border between the nations poses to Liberia.
The United Nations Mission in Liberia, which maintains the peace in the small West African nation with a force of 8,000 peacekeepers, responded to a request for comment from The Christian Science Monitor by e-mail.
"UNMIL takes the points and concerns raised by the HRW report very seriously. The movement of suspected fighters from Côte D'Ivoire, both Liberian and Ivorian, is a major concern for Liberia, and the mission is working closely with the Liberian authorities to monitor border areas, to ensure that the security of Liberia and its citizens is not at risk."
President Ellen Johnson Sirleaf was in the United States when the report was released. No one at the executive mansion was available for comment.