Mandela meets the press: Monitor coverage after his prison years
When Nelson Mandela emerged from 27 years in prison in 1990 as a wiry and gray 71-year-old, he became the darling of the international press, a one-man representation of both the hope and challenges bound up in South Africa's transition.
Over the next several years, as he transitioned from freedom fighter to president to retired statesman, Mr. Mandela developed an unusually warm and forthcoming relationship with the news media, including a fondness for The Christian Science Monitor, which he sometimes had access to and read in prison. He also came to know Monitor correspondents.
"Time stood still during the hour in which we waited for Mandela," Monitor reporter John Battersby wrote of the crackling excitement among the journalists awaiting his release from prison on Feb. 11, 1990. "But when the moment arrived and I saw the tall figure of Mandela striding toward the media throng, I lost all sense of time and ego and walked toward him with a broad smile. He noticed me, smiled back, and walked up to shake my hand."
Five months later, on a trip to the United States, Mandela broke away from his planned schedule to visit to the Monitor's headquarters in Boston.
"The Christian Science Monitor was well known to me during my 27 years in prison," he told Monitor reporters and editors gathered on the plaza outside the newsroom that day. "It continues to give me hope and confidence for the world's future."
Indeed, in the years to come, the paper was front and center at many of the most important events in the Mandela presidency, capturing snapshots of this dramatic period in South African history. Here is a sample of that coverage.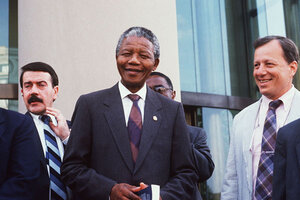 Peter Main/The Christian Science Monitor/FILE
1.

'An air of hope and expectation': Mandela emerges from prison

Mandela's release from prison in February 1990 marked the beginning of a new and still uncertain era in South Africa. Although the white government had ended its ban on anti-apartheid political organizing and begun speaking with the movement's leaders, no one yet knew how far the reforms would reach. Meanwhile, political violence still gripped much of the country.

Mandela stepped into that fray as a mediator and moral authority, handed the unenviable task of working as a negotiator in a country that hoped to avoid more bloodshed or a civil war.

"Today, the majority of South Africans, black and white, recognize that apartheid has no future," he told the massive crowd who came to greet him at the Cape Town City Hall the day he was released. "It has to be ended by our decisive mass action."

Two days later, he held his first public rally, a massive gathering at a soccer stadium in the Johannesburg township of Soweto. As the Monitor reported that day:
An air of hope and expectation permeates this sprawling township – the home of 2 million black South Africans.

About 140,000 people ... packed Soweto's Soccer City stadium on Tuesday to hear Mr. Mandela's first address to the people of Johannesburg.

For the supporters of the African National Congress (ANC), it was a triumphant moment. But beyond ANC ranks, hundreds of thousands of South Africans – including many whites – were also looking to Mandela for a way out of the quagmire of racial conflict and violence....

"It is discipline and loyalty that will liberate us," he told the biggest political rally in the country's history.... "It is only disciplined mass action that assures us the victory we seek."
Three days later, Monitor correspondent John Battersby sat face-to-face with Mandela in a tiny garden behind his Soweto home to discuss his plan for the country's future. In no uncertain terms, Mandela made clear that despite his release, the African National Congress and other liberation organizations would not end their armed struggled against apartheid until the government agreed to their terms.
"You must be careful of being more worried about the violence that comes from the oppressed and saying little – or nothing at all – about the violence that comes from the government," he said. "They [the government] have closed all channels of communication. They have intensified the pressures. What does the world expect us to do in that situation?"