Boko Haram attacks bring thickening cloud of mystery and trouble in Nigeria
Wildly conflicting accounts of a prison attack have exposed a chasm between official portrayal of an increasingly deadly insurgency, and story lines from witnesses, rights groups, and rumors.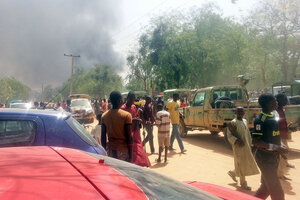 AP
In a video released this week by the militant Nigerian group Boko Haram, hundreds of men jog past a camera shouting, "Allah Akbar!" or "God is Great!"  In the background, flames and smoke billow into a bright sunny sky.
Boko Haram says the video, part of a spate of carefully crafted propaganda that calls on radicals to rise up around the country, was shot on March 14 as the insurgents burst into Giwa Barracks, a heavily fortified military installation and prison in the northeast.
Yet in the video, the fighters meet no resistance as they attack in a bid to free their imprisoned Boko Haram compatriots. In the final shot, the camera turns skyward to what appears to be a helicopter.  
What happened in the assault on Giwa Barracks is in much dispute. Hundreds of people died. But who the victims were – and how they were killed – is unclear.
The case exposes a deepening fault-line in Nigeria between an official portrayal of a deadly insurgency that has indiscriminately killed nearly 1,000 people in recent months, and a messy, unofficial story coming out through media, witnesses, rumors, human rights groups allegations, conjecture, and occasionally Boko Haram itself.
In what can seems a bizarre twist, the ongoing reports about bloody Boko Haram slaughters in town after town are often overshadowed by what appears to be either Army irresolution, malfeasance, or cover-ups. 
Attack foiled?
The Nigerian military has said little about the Giwa Barracks incident beyond the statement it released that day.
According to the Army, a terrorist attack had been "foiled" with "heavy human casualty on the terrorists." The statement said that the militants were attempting to free prisoners to replenish their "depleted stock of fighters."
Yet on March 21, The New York Times published a story saying that Nigerian troops and aircraft had fired on fleeing prisoners that day, killing 500 and possibly more of them.
Many if not most of the prisoners killed in the Giwa Barracks fighting, according to the Times report, were not Boko Haram fighters, but local young males who had simply been rounded up for questioning days before and had not been charged with any crimes. 
With its implication that Nigeria had conducted a massacre, the report had a shocking effect here. The military has strongly denied it, telling the Monitor that the Times was itself complicit with Boko Haram. The New York Times story was written out of Senegal and relied heavily on named and unnamed officials in northern Nigeria contacted by phone. 
But since March 21, many Nigerians in the north have quietly spread a story similar to that of the Times: A hospital worker contacted by reporters said he counted more than 420 bodies and guessed the number was much higher. An environmental worker said the corpses were buried in three mass graves, dug by heavy construction equipment.
The prison part of the Giwa Barracks is notorious as a detention center, and its death-in-detention rates are often cited by human rights groups. 
An Army spokesman contacted by the Monitor said that "a substantial aspect of the [Times] story is definitely not true."  Maj. Gen. Chris Olukolade said further that the report by Times journalist Adam Nossiter, "is slanted towards a mischievous intention on the part of the writer and the sponsors of the writer and the sponsors of the write-up … it is clearly intended to advance another wicked propaganda campaign by the sympathizers of the terrorists."
One retired police officer in Maiduguri, the geographic heart of the insurgency, said one explanation for the Giwa incident was Army pride.
"We could understand why the military may not want to let out how they were attacked," said Madu Isiyaku, the retired policeman. "But we as residents, all over the state, are left with bitter pills of fear in our mouths."
In the past five years, Boko Haram has been responsible for killing thousands of civilians in the northern Muslim-majority area of Nigeria. The group says it is fighting against the influence of Western education and modernity and also against the government.
Its current leader, Abubakar Shekau, this week distributed two videos that, along with the March 14 shots, threaten more killings and abductions of women and girls.
Mr. Shekau especially warns vigilante groups that have tried to join with security forces to battle Boko Haram, saying, "I will slaughter you.... I'm not happy if I don't slit your throats."
He also asks sympathizers or "brethren" around Nigeria to attack around the country, not just in the north.
Why Boko Haram attacks spiked
The increase in Boko Haram attacks comes after an emergency rule imposed last spring when the Nigerian military swept into three northeastern Nigerian states. The crackdown ordered by President Goodluck Jonathan has not slowed the militants.
On the day of the Giwa Barracks attack, before the possible extent of the casualties was known, Human Rights Watch said 700 people had already been killed by insurgents this year in attacks on 40 villages. 
Navi Pillay, the UN High Commissioner for Human Rights, visited the Nigerian capital on the same day.
"The actions of Boko Haram have grown increasingly monstrous," she told journalists. "Close to half a million people have been displaced inside Nigeria and some 57,000 are now reported to have spilled across borders into neighboring countries."
The military maintains that Boko Haram is scattered and desperate as they are killed and captured by the droves. Some observers agree, saying security forces will ultimately prevail, since attacks now appear to be coming from hideouts across the borders of Chad, Cameroon, and Niger.
"The military has been able to frustrate them out of Nigeria," said Nigerian political consultant Fabian Ihekwe. "They [Boko Haram] launch attacks and go back" across the border.
Nigerian authorities have been largely quiet about the escalation, but have acknowledged a need for a new approach to fighting the insurgency.  
On March 18, Nigeria's national security adviser, Sambo Dasuki, announced the government would be adding a "soft approach" to its counterterrorism efforts that includes economic development, education reform, and a "de-radicalization program."
Previously, authorities often boldly declared victories over Boko Haram. Yet after military bases were attacked late last year, the public relations strategy has been more reserved, according to Yan St-Pierre, the head of a Berlin-based security-consulting firm called Mosecon. 
"There's this idea that, 'If we don't talk about it, it doesn't exist," he said.
Many ordinary Nigerians in the north are also silent for fear of retribution from both Boko Haram and the military. Giwa Barracks is a notoriously dangerous prison and security forces have been accused of "rounding up" innocent people and tossing them in with Boko Haram.
"Most people whisper they know what happened," Mr. St-Pierre said. "'But we don't need to talk about it anymore because it is what it is.'"