Boko Haram creeps further into Nigerian life and politics
Parents of kidnapped girls snubbed a long-anticipated meeting with President Jonathan. Meanwhile, a Boko Haram militant, Ababukar Shekau releases a video that taunts hashtag group Bring Back Our Girls.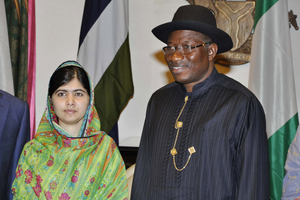 AP
By canceling a meeting with President Goodluck Jonathan, 12 parents and five teenage girls from small towns in Nigeria snubbed their head of state – and turned a national tragedy into a political scandal.
Since April when Boko Haram militants abducted more than 200 school girls, activists in Abuja and residents of the town of Chibok, where the girls were taken, have urged Nigeria's president to meet with grieving parents.  
It took a request by Pakistani girls' education activist Malala Yousafzai, here this week to visit with Mr. Jonathan, to arrange a meeting yesterday. But when the time came to see Jonathan the families refused to leave their hotel rooms. A spokesman for the Chibok community said they would prefer to meet Jonathan later with more members of the community present. 
In Nigeria, the snub was national news. The president and the parents are blaming each other: Jonathan said in a statement that the parents had been manipulated by the activist group Bring Back Our Girls, whose hashtag went viral in May, bringing global attention to an issue to which the president had given scant public attention.  
"Political forces within the Nigerian chapter of Bring Back Our Girls have decided to take this opportunity to play politics with the situation and the grief of the parents and the girls," Jonathan said. "They should be ashamed of their actions."
[Read a Monitor interview with a founder of Bring Back Our Girls] 
Yet all sides here seem to agree that as the Islamist insurgency creeps further into politics, the only winners are the insurgents, whose reach appears to be expanding. 
According to Human Rights Watch, Boko Haram extremists killed 2,053 persons in the first six months of 2014.
"Boko Haram is effectively waging war on the people of northeastern Nigeria at a staggering human cost," said Corrine Dufka, West Africa director for HRW. "Atrocities committed as part of a widespread attack on civilians are crimes against humanity, for which those responsible need to be held to account."
This week Boko Haram released a new video claiming responsibility for bombings last month in Lagos, Nigeria's largest city, and in a shopping mall in Abuja. Lagos is located on the opposite side of the country from the group's northeast strongholds, where Jonathan declared a state of emergency a year ago. 
'Bring back our army'
In the video, Abubakar Shekau, the ostensible leader of a group known to be extremely diffuse, stands in front of tanks and a dozen heavily armed men, and dances and sings with abandon. He mocks the Bring Back Our Girls group, and threatens a Muslim cleric who preaches tolerance.  "Bring back our girls?" he says, grinning.  "Aww-oo. Bring back our army. Bring back our army."
In Abuja, the president accused the Bring Back Our Girls group of manipulating the victims of Boko Haram and of "psychological terrorism." Doyin Okupe, an aide to the president, said yesterday the group had been hijacked by politicians trying to stop Jonathan standing for reelection next year. 
"The entire saga is a major scam that has been put together, carefully choreographed," he said.  "The whole idea is to hang on him a burden that cannot easily be shaken off so that people of Nigeria and the world will prevail on him not to contest."
Near-daily rallies
In Nigeria, Bring Back Our Girls is best known for near-daily rallies demanding the girls' rescue. Activists say they had nothing to do with the families' decision, calling the president's statement "baseless news."
Outside the grounds of the Hilton Hotel, where the Chibok families are staying, the group's rally yesterday was smaller than normal. Some 20 people stood in the rain, chanting and making speeches. Members of the group say the president's attacks on them were solely to divert the public from the plight of the missing girls. 
"They [the government] trample on us like we are insects that are not visible," said activist Mia Muna. "And we are taking it.  This is not fair, to us… and to the parents and to the children."