In Mali, hotel siege and village massacre highlight Islamist threat (+video)
A surge of attacks in Mali in recent days, including a deadly siege at a hotel popular with Europeans, indicates growing boldness by Islamist militants. UN peacekeepers are overseeing a tenuous peace deal in Mali's north.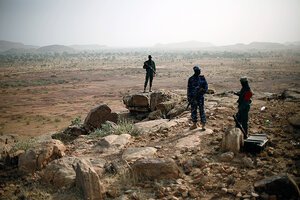 Jerome Delay/AP/File
Two attacks in Mali this weekend have raised fears that an uptick in suspected jihadist violence in recent months is spreading across the country.
Nine people, including four members of the United Nation mission, were killed in an attack on Friday in the central town of Sevare after heavily armed gunmen entered a hotel popular with European military officers, the Associated Press reports. Malian troops stormed the Hotel Byblos early Saturday morning and freed four hostages – two Ukrainians, a Russian, and a South African. Four of the attackers were killed, and eight were wounded, the Malian government said.
The following day, Sunday, gunmen killed 10 people in an attack on the village of Gaberi in northern Mali. No group has taken responsibility for either attack, though Agence France-Presse reported on Monday that Macina Liberation Front, an Al Qaeda-linked group, is suspected of carrying out the attack on the Hotel Byblos.
"At this stage there is no formal proof that it was the Macina Liberation Front (FLM), but strong suspicions point to this group that has been seeking notoriety at all costs," the source told AFP. It is unclear if the two attacks are linked.
Experts say that this weekend's attacks have been "a long-time coming" considering the surge in violence so far this year in the West African country. 
In March, a restaurant in Bamako was attacked – killing five people, including a French citizen and a Belgian security officer – the first time the capital has seen an attack in years. Many worried that it was a sign that Bamako, in the south, would become the target of militant attacks that had been largely confined to cities like Timbuktu.  Another major attack that was planned for Bamako was prevented last month.
"It's a troubling sign that the armed Islamist groups are intent on stepping up the pressure both on the Malian government and on the UN and French presence," Bruce Whitehouse, Mali expert and associate professor at Lehigh University, told the Associated Press. "They want to show they are not just contained within the north and that they're not afraid to confront their primary enemies where they're strongest."
In 2012, after a coup in Bamako, Mali's north fell under the control of Islamic extremists who took advantage of a Tuareg uprising. In 2013, the French army recaptured control of the north and a UN-brokered peace deal was signed with Tuareg separatists. France and other Western governments have since worked closely with Malian authorities to establish order and prevent Islamist militants from regaining a foothold in the north.
Still, militants have become bolder in recent months and the north remain on edge, despite the presence of UN troops enforcing the peace accord. The UN says 56 of its peacekeepers have been killed in Mali, making it the world's deadliest peacekeeping mission in recent years.
Friday's attack on the town of Sevare is significant: the popular tourist town was the demarcation line between government-controlled areas of Mali and those that were controlled by Islamist militants, the Wall Street Journal reports. An attempt by the militants to seize the town's airbase in 2012 was what prompted France to send 3,000 troops to repel the rebel advance. 
For the residents of Sevare, which has enjoyed peace, for the most part, as compared to the north, the attack came as a shock.
"Since the beginning of the fighting in Mali, we haven't experienced such a situation in Sevare," a local resident told the BBC. "We would expect these things to happen in Gao or Timbuktu, but this is the first time it has happened in Sevare."