Somalia says bomb blew hole in passenger jet. Is Al-Shabab responsible?
A bomb blew a hole in a plane, killing one person and forcing the jet to make an emergency landing on Tuesday in Somalia's capital, Mogadishu, a Somali official said Saturday. He added that terrorist group Al-Shabab may be responsible for the bomb.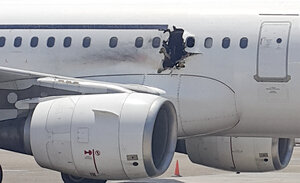 AP/File
It was a bomb that blew a hole in a jetliner, killing one person and forcing the plane to make an emergency landing on Tuesday in Somalia's capital, Mogadishu, a Somali official said Saturday.
"Experts who were investigating the cause of the blast in the plane concluded that a bomb was the cause," said Ali Jama Jangali, Somalia's transport minister at a press conference in Mogadishu.
"The bomb aimed to kill all onboard the plane. Al-Shabab was behind it," he said of the explosion on a Daallo Airlines Airbus 321. He said the findings are preliminary and the investigation is continuing.
Six people have been arrested in connection with the blast after examinations of CCTV images in the airport, a senior Somali intelligence official told the Associated Press. He insisted on anonymity because he is not authorized to speak to the press about the matter.
Somalia's Islamic extremist rebels, al-Shabab, have not claimed responsibility for the incident, although the group is suspected.
One passenger, Abdullahi Abdisalam Borle, died, according to Somali officials who did not give any details. A man's body was found in the town of Balad, 30 kilometers (about 18 miles) north of Mogadishu, according to police who said he might have been blown from the plane.
All other 74 passengers on the plane were safe after the pilot returned the plane safely to Mogadishu airport.
The explosion happened about 15 minutes after the plane took off and it was still ascending.
Capt. Vlatko Vodopivec, the pilot, said he and others were told the explosion was caused by a bomb.
"It was my first bomb; I hope it will be the last," Vodopivec told AP by phone from Mogadishu. He said the blast happened when the plane was at around 11,000 feet (3,350 meters) and still climbing to its cruising altitude of 30,000 feet.
"It would have been much worse if we were higher," he added.
Had the blast occurred at a higher altitude, it could have led to explosive decompression on the plane, which might have caused more severe structural damage, and would have forced a more rapid descent because of limited supplies of oxygen to the passengers.
After the explosion, passengers put on oxygen masks and air could be heard rushing thought the hole in the fuselage, according to a video taken by a passenger.
Somalia's government said it will tighten security at the airport to prevent other threats.
Somalia faces an insurgency from the Islamic extremist group al-Shabab, which has carried out deadly attacks in Somalia and neighboring countries.
Daallo Airlines, which is based in Dubai, has temporarily suspended its operations in Somalia's capital following the incident but hopes to restart them soon, said Mohammed Ibrahim Yassin, the airline's chief executive.
He described security at Mogadishu airport as "good" and multilayered, and "much better than it used to be." Daallo typically operates around 15 flights a week to Mogadishu from Somali and nearby international destinations. Its flight Tuesday was operated by Hermes Airlines, which is based in Athens, Greece, under a lease agreement. Hermes officials have not commented on the incident.
Experts from Somalia and Greece are involved in the investigation into the blast.