As Ebola outbreak grows, Congo puts public health lessons to the test
In the wake of the West African Ebola epidemic, there was both anger and grief over claims that the world had responded too slowly. But today, as new cases are reported in Congo, many public health groups are determined not to repeat the past.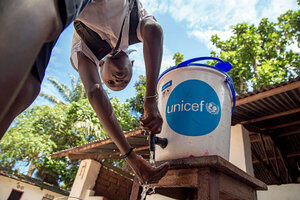 Mark Naftalin/UNICEF/AP
Johannesburg, South Africa
When a deadly outbreak of the Ebola virus began creeping across communities in West Africa in early 2014, many on the ground quickly sounded the alarm.
"We are facing an epidemic of a magnitude never before seen," said Mariano Lugli, a coordinator for Médecins Sans Frontières (MSF), that April.
It would take nearly four more months and nearly 900 more deaths, however, before the World Health Organization declared the outbreak "a public health emergency of international concern," and a massive global humanitarian response shuffled into place. By the time the epidemic was eventually contained in late 2015, more than 11,000 people had died.
But in the past few weeks, as Congo faces an Ebola outbreak, there seems to be a new refrain – "Not this time" – as local and international responders scramble to apply lessons learned from the West African epidemic.
Within two days of the first two confirmed cases, Minister of Public Health Oly Ilunga was on the phone with Tedros Adhanom Ghebreyesu, the director general of the World Health Organization, arranging to ship thousands of doses of an Ebola vaccine to the affected region. Two days after that, Dr. Tedros, as he is known, had landed in Congo and was posing with Dr. Ilunga modeling an "elbow bump" (to avoid the skin-to-skin contact of a handshake that can help spread Ebola) and touring hospitals where patients were being treated.
Meanwhile, as news of Africa's latest Ebola outbreak spread through major Western news outlets, countries including Britain, Canada, Germany, and the United States lined up to donate money. And the World Bank announced that it would give $12 million from its Pandemic Emergency Financing Facility, a fund created after the 2014-15 West African epidemic to help prevent disease outbreaks from spreading in poor countries.
"In 2014, it took Westerners getting sick and dying for a lot of the world to wake up," says Donna Patterson, the director of Africana Studies at Delaware State University, who has studied the West African epidemic. "I'm happy to say that's not been the case this time around."
"The response was very quick from the beginning," says Tarik Jašarevic, a spokesperson for the WHO. "[Two weeks] into the [declared] outbreak we have a vaccination campaign, we're tracing everyone who's had contact with those who are sick, and we're conducting safe and dignified burials" – NGO-speak for burials that conform to local cultural norms but avoid skin-to-skin contact – "so we are preparing for all scenarios."
So far, 22 deaths have been reported, and 58 suspected cases of the disease, according to figures provided by the Congolese Health Ministry.
The situation, however, has become more complicated since last Thursday, when authorities announced that the outbreak had migrated more than 100 miles from Bikoro, the rural area where it began, to Mbandaka, a city of more than a million people situated on the Congo River.
"There's obviously increased risk of spread now," Mr. Jašarevic says, particularly given the fact that Mbandaka is a port city and has a direct flight connection to Kinshasa, Congo's capital.
But the 2014-15 West African epidemic also offered a useful primer into how to keep Ebola from spreading in dense urban areas, Dr. Patterson says.
As an example, she points to Lagos, Nigeria's sprawling mega-city of 20 million. When the first case of Ebola was confirmed there in August 2014, many observers were apocalyptic in their predictions. This was an overcrowded city with wobbly public health care, and to top it off – the city's doctors were on strike. But only two months later, the country was officially declared Ebola-free. In the end, just 20 people had contracted the virus, and only eight had died.
Part of the reason for that, Patterson says, is that Nigerian health authorities quickly identified the source of the disease in the city – a Liberian man who had arrived by flight from Monrovia – and tracked down everyone he had come into contact with. Every time they found a new case, they tracked down all that person's contacts, too. In all, healthcare workers made nearly 20,000 visits to just under 1,000 people to make sure the disease didn't spread. And it didn't.
That tactic – known in the medical world as "contact tracing" – has been a centerpiece of the effort to end the outbreak in Congo too, with one twist.
Now there's a vaccine.
"A vaccine improves the message you're able to send to people about Ebola enormously, because you're telling people if they come forward to say they've had contact with the disease, there's something proactive that can be done to help them," says Eric Osoro, a Kenyan epidemiologist who worked with the WHO in Sierra Leone during the outbreak there. "That's a real game changer."
Before that outbreak, a vaccine had been in development for decades, but there was little money – or urgency – to try to cure a disease that tended to only hit remote, poor communities in rural Africa.
The severity of West Africa's outbreak changed that. The most promising vaccine was hustled through development, and given to more than 4,000 people in Guinea and Sierra Leone who had been in touch with people infected with Ebola. None of them got sick. Technically, however, the vaccine is still experimental, with its current use in Congo its first real-world application.
Of course, many experts note, even apart from what it's learned from West Africa, few places know more about dealing with Ebola outbreaks than Congo. Since the virus was first identified after an outbreak in rural Zaire – as Congo was then known – in 1976, there have been ten more reported outbreaks of the disease there.
"They're experienced, they know how to take the measures to reduce transmission," Dr. Osoro says. "And now, with this vaccine, we have a new addition to the fight."