Serbia vs. Germany: World Cup's third big upset in as many days
(Read article summary)
First, Spain. Then, France. Now Germany tumbles 0-1 to Serbia in the first round as a controversial referee decision held back the European powerhouse during today's Germany vs. Serbia game.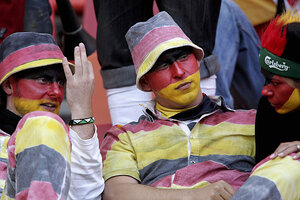 Denis Balibouse/Reuters
Germany doesn't lose in the first round of the World Cup. It just doesn't happen, at least not since 1986 when West Germany fell to Michael Laudrup's Danish team in the first-ever "Group of Death."
And after their first game – when they made shish-kebabs out of Australia's Socceroos – no one expected Germany to lose, at least not to Serbia.
But they did lose to the erratic Balkan team, 1-0.
IN PICTURES: Top 10 goals of the first week
Germany today became the third elite European team to be upset in the past three days.
First, co-favorites to win it all, Spain, lost to Switzerland Wednesday, despite pummeling the Swiss for the better part of 90 minutes. Then, star-studded France cracked under an eager and persistent Mexican counterattack.
Germany's loss, however, has to be attributed as much to a bad decision by Spanish referee, Alberto Undiano as it was Serbia's soccer. Germany was forced to play two-thirds of the match with only 10 players after Mr. Undiano ejected Germany's top goal-scoring threat, Miroslav Klose, in the 36th minute for a slight foul.
These decisions are always subjective, but that was a bad call. Few outside Belgrade would disagree.
And it cost Germany almost immediately. Serbian striker Milan Jovanovic scored shortly after the debilitating red card on Klose with a high volley at point blank range.
Despite being a man down, Germany nearly scored a number of times, including a penalty kick that German striker Lukas Podolski could not put in the back of the net. But they could not equalize.
Now Group D looks a lot more interesting, and Ghana can put itself in pole position with a win over Australia tomorrow.
IN PICTURES: Top 10 goals of the first week
Like what you just read? Check in throughout each day for the latest World Cup news.
World Cup 101: