Ortega leads anti-U.S. critique at Latin American food summit
Leaders at Wednesday's summit in Nicaragua blamed US trade policies for the region's food crisis.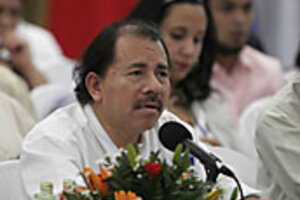 Esteban Felix/AP
In a region beset by runaway food costs, the socialist government of Hugo Chávez's Venezuela and its leftist allies appear to have found fertile ground to plant the seeds of revolutionary discourse.
At an emergency food-security summit held Wednesday in Managua, Nicaragua, 14 Latin American and Caribbean nations convened under the umbrella of the Bolivarian Alternative for the Americas (ALBA), the leftist trade bloc founded in 2004 by Cuba and Venezuela as an alternative to United States free-trade agreements.
The summit was supposed to focus on how the countries can prevent food shortages and unrest as the global food crisis hits the region, but it morphed into a series of complaints about US policy led by the summit's host, Nicaraguan President Daniel Ortega.
Mr. Ortega called the food crisis an "epic problem" – one that he blames on the "tyranny of global capitalism." This echoes the words of his ideological comrade Mr. Chávez, who recently called the crisis "the greatest demonstration of the historic failure of the capitalist model."
"It is not surprising that a lot of anger is being aimed at the United States, and not surprising that Chávez and his allies in ALBA are trying to take advantage of the region's sense of frustration and vulnerability," says Michael Shifter, vice president of Inter-American Dialogue, a Washington-based think tank. "Central America is looking for other options; there is a sense that its fate is tied too closely to the United States."
Now, under ALBA, a cooperation agreement among Venezuela, Cuba, Nicaragua, and Bolivia, the leftist leaders are trying to make inroads into neighboring countries.
At the conclusion of Wednesday's summit, in which the various government leaders followed Ortega's lead in blaming the food crisis on the US and other "developed countries," all but two participating nations signed a joint resolution that incorporated specific language supporting ALBA. Costa Rica and El Salvador, the two most conservative governments at the summit, abstained from signing the pact.
"This was a propaganda campaign for ALBA," says Nicaraguan political analyst Cirilo Otero. "There were no concrete solutions, just political show."
Still, Ortega and Chávez, who failed to show at the Nicaraguan summit at the last minute for health reasons, appeared to win some converts during the meeting.
Honduras's center-left President Manuel Zelaya, who has flirted with ALBA in the past, blamed the regional food crisis on a free-market economic model that he says has led to a "culture of dependence" on cheaper food imports from subsidized US farmers.
"There was confidence that globalization would resolve our energy and food problems, but they have made them worse," Mr. Zelaya said. "Now we have less production in our countries and more emigration by those seeking the American dream."
Zelaya urged the governments of Central America to take a more active role in their countries' economic development and called for a revival of the "agrarian reform" policies of the 1980s, in an apparent nod to the first Sandinista government's land redistribution programs.
Ralph Gonsalves, the prime minister of the Caribbean island of St. Vincent and the Grenadines, also blamed the US for his country's fisheries-based food crisis. Mr. Gonsalves said that US-produced global warming has increased the ocean's temperature and driven the fish to deeper waters, where they are harder to net by island fishermen. Plus, he said, hurricanes and tropical storms, which wreak havoc on lobster and shrimp populations on sea beds, are also a result of global warming caused by US pollution.
Even Costa Rican President Oscar Arias, who ultimately refused to sign the ALBA-sympathizing resolution, couldn't help but voice his own criticism of the US when it was his turn at the microphone.
The former Nobel Peace laureate said he "couldn't understand" how the United States would offer only $1 billion in food aid to the world, when they spend that much in half a week on the war in Iraq.
"This is the wrong action because their values are wrong," Mr. Arias said of the US offer to help.
In total, 12 countries signed on to the final summit resolution, which, among other things, pledges Venezuela to provide $100 million in agricultural assistance from the so-called Bank of ALBA. Signatories included Nicaragua, Bolivia, Ecuador, Honduras, Venezuela, Saint Vincent and the Grenadines, Haiti, Guatemala, Mexico, Belize, and the Dominican Republic.
Costa Rica's Arias, meanwhile, said he would withhold his signature over ideological concerns that the interests of ALBA would conflict with his country's commitment to free trade and economic cooperation with the US. Costa Rica recently ratified the Central American Free Trade Agreement (CAFTA).
"There are some value judgments, concepts that I don't agree with," Arias said.
Yet despite Costa Rica's and El Salvador's hesitation, both are expected to join the other 12 signatory countries in the follow-up meeting scheduled for later this month in Mexico, where the ALBA nations will again push for regional integration to confront US influence in the hemisphere.