US and Colombia sign accord for US to access military bases
Critics of Colombia President Álvaro Uribe's decision to sign the accord say it is 'unbalanced' for Colombia. Far-left and moderate leaders alike have expressed concerns about an increasing US presence in the region.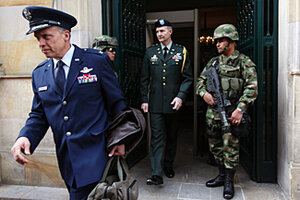 Jose Miguel Gomez/REUTERS
Colombia signed a controversial military cooperation pact with the United States Friday that will expand US access to Colombian military bases to conduct operations aimed at combating drug trafficking and leftist rebels.
The agreement – whose text has not been made public – has raised concerns around Latin America of an increased US presence in the region.
Venezuela's leftist President Hugo Chávez, who "froze" diplomatic relations with Colombia in August over the pending pact, has said it could set the stage for a US invasion into Venezuelan territory. More moderate regional leaders in Brazil and Chile have also expressed concern over the intentions of the agreement.
Colombia – the United States's most steadfast ally in South America – has stressed that the agreement poses no threat to its neighbors.
"The pact is based on principles of total respect for sovereign equality, territorial integrity, and of nonintervention in the internal affair of other nations," the Foreign Ministry said in a statement, after an early morning ceremony where Foreign Minister Jaime Bermudez and US Ambassador William Brownfield signed the document.
$46 million committed already
The US government has already appropriated $46 million to fund the new arrangement. Most will go to refurbish the Palanquero Air Force base near Bogotá. Colombia has received around $6 billion in aid since 2000 under Plan Colombia, a broad program to fight the double scourges of drug trafficking and rebel insurgents.
US and Colombian officials have said the new agreement is in many ways an extension of Plan Colombia. It maintains the cap of 800 military personnel and 600 civilian contractors permitted in Colombia and any given time.
Mr. Bermudez said in a radio interview that the US military personnel who will be stationed at any of seven Colombian bases will be "under Colombian command."
Loss of Ecuador base was factor
US operations from the Colombian bases are aimed in part to replace the surveillance capabilities lost when Ecuador refused to renew Washington's lease on the base at Manta, which served as a center for tracking drug-trafficking vessels in the Pacific.
President Álvaro Uribe decided not to send the defense pact to the Colombian Congress for consideration as recommended last week by Colombia's Council of State, which, after revising the text, criticized certain aspects of the agreement, saying it was "very broad and imbalanced" for Colombia.
Agreement without borders?
George Withers, of the Washington Office on Latin America, who has been monitoring negotiation of the deal, says that based on what is known publicly, it appears to be "an agreement without borders." He said that, according to information that has been leaked, the agreement seems to give the US military authority to conduct operations beyond Colombia, though he has been assured by the State Department and Department of Defense that that is not the intent of the accord. "There's a big difference between intent and authorization," Mr. Withers says, expressing concern that the current intention could change over the 10-year term of the agreement.
Colombian Defense Minister Gabriel Silva, who was in Washington this week, putting the final touches on the accord, said that the agreement "has no geopolitical or strategic connotation, other than being more effective in the fight against drug trafficking."