In Colombia, FARC rebels release their longest-held hostage
After 12 years as a hostage, Sgt. Pablo Emilio Moncayo was released by FARC rebels in Colombia today. Could this be the next step in releasing all remaining FARC hostages in Colombia?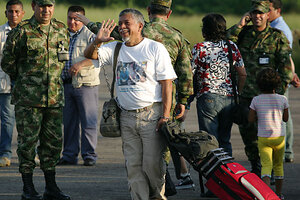 William Fernando Martinez/AP
One of Colombia's longest-held hostages was freed Tuesday in the latest unilateral release by Colombia's FARC rebels, possibly paving the way for a long-awaited accord to free all its remaining hostages in exchange for jailed leftist rebels.
Sgt. Pablo Emilio Moncayo spent 12 years in the hands of the Revolutionary Armed Forces of Colombia (FARC), who captured him and 17 others when they overran the Patascoy military communications center where he was stationed.
Moncayo was handed over to a commission of the International Committee of the Red Cross, a Catholic Church representative, and opposition Sen. Piedad Cordoba, who has been a key player in a number of unilateral releases in the past two years. But the return of the helicopters to the airport in the southern city of Florencia was delayed by bad weather.
IN PICTURES: Colombia's FARC rebels
Images of Moncayo inexplicably wearing a new Army uniform, a short time before the humanitarian mission arrived for him, were broadcast on Venezuela's Telesur news channel. In the video footage, Moncayo looks at his watch and says to the camera that only a few hours remain until he sees his family "after so many years". Other images show Moncayo smiling with Ms. Cordoba.

The government's peace commissioner Frank Pearl said the presence of a television broadcasting team violated the agreed upon protocol to facilitate the release operation.

The freed hostage's father, Gustavo Moncayo, made his son's case famous by crisscrossing Colombia on foot, wearing chains like the ones his son was been forced to wear in the jungle. "I want my son to be the one to take off these chains," he told reporters before the release.

Moncayo's release came two days after Pvt. Josué Calvo, who was kidnapped last year, was freed in a similar operation. The FARC also gave Senator Cordoba the coordinates for a third operation to retrieve the remains of Maj. Julian Guevara, who died in captivity in 2006.

The FARC have said Moncayo's would be the last of their unilateral releases and would push forward with the idea of an exchange of the remaining 22 members of Colombia's security forces in their custody for imprisoned FARC rebels.

Throughout his eight years in office, President Alvaro Uribe has flatly rejected the notion of a prisoner exchange – but at times he has appeared to soften to the notion. On Sunday, following Mr. Calvo's release, said his government "is not opposed to a humanitarian accord" as long as the FARC members released did not return to rebel ranks.

Mr. Uribe, whose own father was killed in a botched kidnapping attempt in 1986, will step down from power in August, when his second term ends.
Alejo Vargas, who heads the National University's Security and Defense research group, says this may be the best chance for a prisoner exchange through a humanitarian accord. "If the FARC have become realistic, the exchange could happen before Uribe leaves power," he says.

"Uribe has the political capital to be able to do this," Mr. Vargas says. Any one of the seven candidates vying to succeed him, however, "would have a hard time making a similar gesture immediately after taking power," he says.

With the releases, the FARC are trying to regain some of the political relevance they have lost after suffering major setbacks in the past couple of years, say analysts. A bold intelligence operation tricked the FARC into freeing 14 of their top hostages, including former presidential candidate Ingrid Betancourt and three American defense contractors. That same year the rebels lost three of their top commanders as suffered massive desertions. However the rebels still have an estimated 9,000 fighters and remain a significant destabilizing factor in many parts of the country.