If Joran van der Sloot confession inadmissable, will he walk?
Joran van der Sloot's lawyer is trying to get his confession of murder thrown out. Van der Sloot says he was tricked into giving a confession by Peru's police. But Peruvian legal experts say the confession is likely to stand.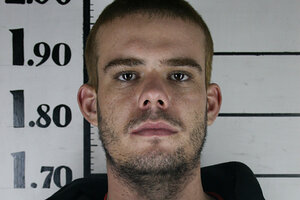 Domingo al Dia/America Television Channel/AP
Peruvian legal experts say it is unlikely that the judge hearing the case of Joran van der Sloot, the Dutchman accused of killing a Peruvian woman in late May, will toss out a confession he gave to local police officers admitting to the murder.
Mr. Van der Sloot's lawyer presented Judge Carlos Morales with a legal writ for unlawful arrest, or habeas corpus, arguing that his confession to the murder of Stephany Flores, a Lima university student, was obtained under false pretenses and should be struck from the record.
In the only interview granted since his arrest June 3, Van der Sloot told Holland's De Telegraaf that he admitted to the murder because police officers told him that this way he could be sent to Aruba, his home.
"A habeas corpus petition is not relevant in this case. He confessed to the police not the judge, making the confession part of the evidentiary process. The confession alone is not transcendental to the case," says Ricardo Brousset, who heads Peru's national court for cases involving terrorism and organized crime.
Van der Sloot refused to answer questions from the judge at a closed hearing on Monday, but the case will move ahead even with him remaining silent. The court will hear testimony the rest of this week from three men who drove van der Sloot from Peru to neighboring Chile after he allegedly killed Flores. She was murdered May 30 and van der Sloot left that same day for Chile. He was arrested there and brought to Lima, Peru's capital, on June 5.
In addition to the interrogation, Judge Morales has ordered that van der Sloot undergo psychological and psychiatric evaluations, as well as a review of the evidence gathered during the investigation. There is also the possibility, according to court sources, that the judge could order the exhumation of Flores' body for further tests as part of the discovery process. Sources say that there are 10 components to the ongoing investigation in the case, including a closer examination of van der Sloot's computer.
Much of the evidence gathered by Peru's police to date has been leaked to the media. The local press has shown images of clothing taken from room 309 in the Hotel Tac in Lima where Flores' body was discovered. Film footage of van der Sloot and Flores in the hotel lobby and at a nearby casino, where he was playing in a poker tournament, has also been played repeatedly on local TV news shows.
In the confession, van der Sloot said he killed Flores after he found her looking at information on his laptop computer. She was supposedly viewing a file concerning the disappearance of Natalee Holloway, a US teen from Alabama who went missing on May 30, 2005, five years to the day Flores was killed. Van der Sloot is the only suspect to have been arrested in that case. Holloway was never found, so he was released.
While he agrees that the confession is only part of the body of evidence against van der Sloot, Sandro Monteblanco, CEO of a Peruvian law firm, says that the case would be extremely complicated if the judge decided to expunge the testimony from the record.
"There is evidence without his testimony to the police, but a decision by the judge to exclude the confession could create a kind of double jeopardy," says Mr. Monteblanco.
If found guilty, Van der Sloot faces anywhere from 15 to 35 years in prison. He is currently being held in Lima's Castro Castro maximum-security prison.
RELATED STORIES: