After elections, will Mexico's drug war return opposition to power?
On July 4, Mexico holds elections for governorships in 12 states. Some polls show that the PRI (Institutional Revolutionary Party) – which ruled Mexico for seven decades – could win every state. Could Mexico's drug war unseat President Felipe Calderón and put the PRI back in power?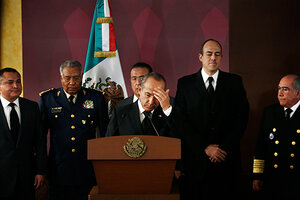 Miguel Tovar/AP
Mexico's main opposition Institutional Revolutionary Party (PRI) appears poised for a major victory in upcoming gubernatorial elections as the president's party takes the fall for a violent drug war.
At least that's what the party and some opinion makers are suggesting, heralding a "renaissance" of the PRI – which ruled the nation for over seven decades before losing the presidency in 2000. Some surveys forecast a clean sweep for the PRI in all 12 states holding elections for governor on July 4.
"The PRI reemerges, the PRI revives, the PRI resuscitates," frets Denise Dresser, a prominent Mexican commentator, in a May 17 column in Reforma newspaper. In the column she portends the return of what she calls a corrupt political machine in Mexico.
IN PICTURES: Mexico's drug war
But even if the PRI picks up most states in the elections, analysts question the significance of the victory.
The tricolor – as the PRI is known for its red, white, and green logo that shares the same colors as the Mexican flag – already holds nine of the 12 governorships in dispute, and winning three more states may not have much impact, some observers say. Some polls even show close races in up to four states: Tlaxcala, Oaxaca, Sinaloa, and Puebla.
"The PRI's voting levels haven't gone down in the last few years, nor have they come up," says Federico Estevez, political analyst at Mexico's Autonomous Technological Institute. "What is favoring the PRI right now is nothing within the PRI, nor between the PRI and its electorate, but rather its two main rivals that have been hurting over the last two years."
The PRI's main opponent, President Felipe Calderón's conservative National Action Party (PAN), has been losing votes in both state and congressional elections. Some analysts point to the escalation of drug violence and a deep economic recession in 2009. More than 23,000 people have been killed in drug-related attacks since December 2006 when Mr. Calderón threw the Mexican armed forces into an anti-drug cartel offensive. The latest and most notable victim was the leading PRI gubernatorial candidate in Tamaulipas.
Those who support the PRI say the party would employ less violent means to confront drug lords, although the party itself has yet to present a clear proposal. "Yes, the PRI were dinosaurs, but they knew how to govern," says 65-year-old homemaker Maria Elvira Isaguirre, a Mexico City resident who hails from Tamaulipas.
Trailing the PRI and the PAN among major Mexican political parties is the left-leaning Democratic Revolution Party (PRD). The PRD has been losing support due to deep divisions between moderate and radical elements in the party.
However, in the upcoming local elections, candidates have not raised national issues, or turned the races into a referendum on Calderón's governance, says Mexico City pollster Dan Lund.
In addition, the June 28 assassination of gubernatorial candidate Rodolfo Torre Cantu appears to be having only a "marginal" effect on the elections, says pollster Jorge Buendia. The July 4 vote will decide 12 governorships as well as municipal races in 14 out of 31 states. The PRI currently controls 20 state governments.
But even if the upcoming elections hold little national significance, the PRI is slowly turning Mexico's map red, white and green, and its 2012 presidential candidate, Enrique Peña Nieto, has a two-digit lead on his closest opponent, according to a Mitofsky poll taken in May.
Analysts say anything can happen between now and 2012, and point to PRI candidate Roberto Madrazo's largely unexpected third place finish in the 2006 presidential elections as evidence. But some still worry the party could again become an overpowering force in both national and local politics:
"This could affect plurality [in Mexican politics]. It affects the possibility of a counterweight," says Aldo Muñoz, a political scientist at Mexico State's Autonomous University.
What the PRI has in its favor is a nostalgia for the not-too-distant past, when things were not as bad as they are today, Lund acknowledges.
"There is corruption in all of the parties and I don't trust any of them, but we were better off with the PRI," says Maria Amparo Alcantara, a medic from Mexico City who had voted PAN in the 2006 presidential election but says she would now vote PRI.
IN PICTURES: Mexico's drug war
RELATED STORIES: