In Mexico, skepticism that arrest of Edgar Valdez Villarreal – 'La Barbie' – will stem drug trade
Mexican officials arrested Edgar Valdez Villarreal – known as 'La Barbie' – an alleged senior leader in a drug trafficking cartel. That's good news for President Calderón, but there's skepticism it will make a dent in growing drug violence.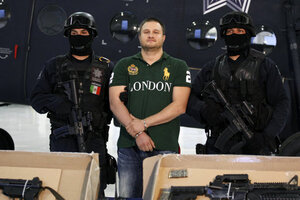 Alexandre Meneghini/AP
After weeks of fear and violence, the mood in Mexico shifted Tuesday, a day after the capture of Edgar "La Barbie" Valdez Villarreal, allegedly one of the top drug lords in Mexico.
His capture is a political coup for Mexican President Felipe Calderón, whose administration has been dogged by political assassinations, an attack on a Cancun bar that killed eight, and the massacre last week of 72 migrants. All of the mayhem has been blamed on drug traffickers.
While experts say this is a political victory for Mr. Calderón and will boost Mexico's reputation, it is likely to have little short-term impact on the flow of drugs to the lucrative US market or the violence ravaging this nation. In fact, it could lead to more violence in the coming weeks or months.
Jorge Chabat, who studies the drug war at the Center for Research and Teaching in Economics in Mexico City, says intra-cartel violence is often the fallout when a top leader is taken down.
"The arrest of these drug lords does not have any significant effects in terms of flow of drugs to the US. It did not happen in Colombia, where the government has dismantled the big cartels but they are producing more cocaine," says Mr. Chabat. "In the long term, the dismantling of these cartels would in principle produce a reduction in levels of violence, but it is not going to happen in the short term. In the shorter term, there is no significant change."
Still, the capture of Mr. Valdez, the alleged leader of the vicious Beltran Leyva cartel, was touted by the government as proof that its military-heavy strategy is working, despite public weariness over drug-related violence that has killed 28,000 since Calderón took office nearly four years ago.
Grinning Barbie
The man known as "The Barbie" for his fair complexion grinned for the cameras as his arrest was broadcast across Mexico. The government played up the significance of the capture. "He has been detained, and this operation closes a chapter in drug trafficking in Mexico," senior federal police official Facundo Rosas said Tuesday.
The capture "is a high-impact blow against organized crime," national security spokesman Alejandro Poire said in an emailed statement Monday night.
Valdez is considered a top leader of the Beltran Leyva cartel, and has been described as among the group's most violent members. Violence suspected to have been carried out by the group has spread in parts of central Mexico in recent months, with bodies dangling from overpasses, and has moved westward toward Acapulco.

Officials also believe they ordered the murder of the family of a marine after Arturo Beltran Leyva, the former head of the eponymous cartel, was killed by Mexican marines in December. Also this year, the government took down Ignacio "Nacho" Coronel, of the vicious Sinaloa cartel.
Erubiel Tirado, a security expert at the Iberoamerican University in Mexico City, was skeptical that the latest arrest will amount to much concrete change. "This would be high-impact if it undid the structure of the organization," he says. "Just taking down the head of an organization does not work; the big fish does not work alone."
In the past decade, Mr. Tirado says, each time a leader is removed, violence rages, because lower-ranked members of a gang vie for control. "It tends to multiply criminal networks. [The former leaders] get substituted with those who can be more violent and less strategic," he says. "And the social-demographic reality of our country means there are any number of young people who are good candidates to join the criminal lines."
Still, this will boost Calderón, says Mr. Chabat, especially because it was a "clean operation," unlike the previous two high-level captures, in which suspects were killed. Valdez, who was indicted in the US for cocaine smuggling, could be extradited, and that could ultimately mean more intelligence-gathering for officials on both sides of the border.
"This gives Calderón some rest," he says.