How Mexican drug gangs use YouTube against rival groups
Mexican police uncovered a mass grave this week with aid of a YouTube video posted online by a drug gang. Rival gangs have turned to social media before to publicize the crimes of their enemies.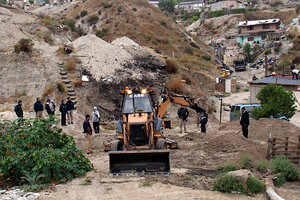 Reuters
Mexican police worked Friday to identify the bodies of 18 corpses pulled from a mass grave outside Acapulco, after the grave's location was revealed in a video posted to YouTube by a drug gang.
In the YouTube video, two men confess to killing a group of Mexican tourists kidnapped Sept. 30 in Acapulco. They called it a revenge attack against La Familia, a brutal Michoacan-based crime group. It is unclear who posted the video.
The confession was only the most recent video of people admitting to crimes, often after being tortured and threatened at gunpoint by rival gangs. Drug smugglers wishing to publicize the crimes of their enemies have circulated video confessions and used anonymous tip-offs to police, which have led in the past to arrests and gruesome discoveries like the mass grave.
Badly bruised and with hands tied behind their backs, the two men in the most recent video revealed the site of the grave in Tuncingo outside Acapulco to apparent gunmen off screen. Two men wearing the same clothes as those in the video were later found dead at the site where police discovered the 18 corpses. Police said an anonymous tip led them to Tuncingo on Wednesday, although the YouTube video also revealed the location.
Suspect tip-offs
While the discovery of the mass grave was a breakthrough in the unsolved mass murder case, using tip-offs from criminals also sets a dangerous precedent.
Jose Ramos, security expert at the Colegio de la Frontera Norte in Tijuana, says such tips erode trust in the police, as people will always question whether a case was solved thanks to the help, or even complicity, of traffickers. "This is worrying," says Mr. Ramos. "We are substituting the work that the state should do to identify alleged murderers and kidnappers."
On Thursday, another man who appeared in a separate video confession was found murdered. In a video released shortly after Mario Angel Gonzalez Rodriguez was kidnapped in October, he says that his sister – Patricia Gonzalez, the former state prosecutor of Chihuahua – had worked for an offshoot of the Juarez Cartel. Ms. Gonzalez has denied the claim, saying her brother had spoken under duress. Police are reportedly investigating the allegations.
Tips revealed by drug traffickers may be highly suspect, but they have led to arrests – such as a prison chief who allegedly freed inmates in July to carry out a massacre in Torreon, Coahuila.
This tactic is used not only to incriminate rival gangs, but also to discredit the authorities, says Jorge Chabat, who studies the drug war at the Center for Research and Teaching in Economics in Mexico City.
"If the police don't succeed in capturing the perpetrators of a crime, and the criminals do, the public comes to the conclusion that the Mexican government is inefficient," Mr. Chabat says. "This disapproval leads to [public] pressure to stop combating organized crime."
These so-called investigations by cartels should not necessarily be interpreted as traffickers wishing to supplant the work of government institutions, Chabat says. However, he adds, La Familia might be the exception, because it has expressed desire to become a political force.
Acapulco kidnapping
A total of 20 tourists were kidnapped in Acapulco on Sept. 30 while visiting the beleaguered resort city from Michoacan. Acapulco's mayor has since warned residents not to go out at night.
Despite the video confession that the mass killing was a revenge attack against La Familia, relatives of the victims have said they were honest mechanics with no ties to organized crime. Police say none have a criminal record and it is unclear whether the men were mistaken for traffickers.
Family members of the 20 tourists traveled to Acapulco on Friday to identify whether the bodies were those of their loved ones. The bodies of two of the kidnapped tourists are still missing.
La Familia made headlines again this week when US agents arrested 45 people in Atlanta, Georgia, suspected of being members of the gang.