Sinaloa group 101: Five facts about Mexico's powerful drug cartel
US authorities announced this week the dismantlement of a massive drug-smuggling operation in Arizona, believed to have generated $2 billion in proceeds over five years. The 76 suspects arrested in the 17-month probe, dubbed Operation Pipeline Express, are allegedly connected to Mexico's Sinaloa cartel, the most powerful drug-trafficking organization operating in Mexico – and, some say, in the Western Hemisphere. "Today we have dealt a significant blow to a Mexican criminal enterprise that has been responsible for poisoning our communities," Arizona Attorney General Tom Horne said in the statement.
But who are the Sinaloa cartel?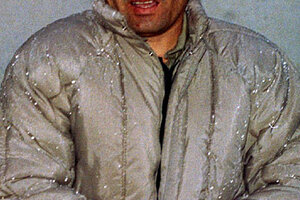 Reuters/Files
1.

The face of the Sinaloa group

The group is led by Joaquin Guzman-Loera, also known as "El Chapo," who is Mexico's most wanted fugitive. He is listed in the US State Department's Narcotics Rewards Program, which says the information leading to his arrest could generate $5 million in reward money. "El Chapo" means "the short one" in English. (Mr. Guzman is 5 feet 8 inches and weighs 165 pounds, according to the state department.)

He received international notoriety after escaping from a maximum security prison in Jalisco state in 2001. The escape was allegedly achieved with the help of prison employees. Even as he remains on the lam, he is perhaps the most powerful drug lord in this region.

His whereabouts are the source of constant speculation, with sightings reported as far as Guatemala to Bolivia. Mexican President Felipe Calderón told The New York Times recently he might be in the US. His wife recently gave birth to twins in California.