Top 5 blows to Colombia's FARC: Where does 'Alfonso Cano' killing rank?
The Revolutionary Armed Forces of Colombia (FARC) is the oldest guerrilla group operating in the Western Hemisphere. What began in the 1960s as a peasant insurgency with political aims morphed into a drug trafficking organization dependent on cocaine and kidnapping for revenue.
The group, whose influence grew over the decades to count 19,000 members in the 1990s, began to face major setbacks when former Colombian President Álvaro Uribe took office in 2002. With the help of the US under Plan Colombia (begun in 2000), Mr. Uribe made fighting the FARC the cornerstone of his presidency – an effort that Colombians widely supported.
The effort continues under current President Juan Manuel Santos. Top leaders have been captured and thousands of members have demobilized. But the FARC continues to remain a deadly force in Colombia, especially in the countryside.
Here is what Colombia has accomplished against the FARC in the past three years.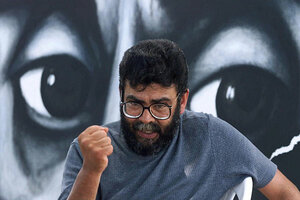 Scott Dalton/AP/File
1.

Killing of 'Alfonso Cano'

Colombia forces scored what President Santos has called an historic blow against the FARC with the killing of top leader Guillermo Leon Saenz, better known by his nom de guerre Alfonso Cano, on Nov. 4, 2011. Colombia's forces bombed a hideout in a jungle in the southwestern province of Cauca, later rappelling down in helicopters to find Mr. Cano.

He was killed in a gun battle, officials say.

Cano joined the FARC in 1982, and in 1984 became part of the group's seven-man leadership. He took over the head of the FARC in 2008 after the death of Manuel "Sureshot" Marulanda.

"It is the most devastating blow that this group has suffered in its history," Santos told the nation on TV.