Why killing of Colombia FARC chief 'Alfonso Cano' may delay peace
Alfonso Cano took over as supreme leader of Colombia's FARC rebels in 2008 and launched Plan Rebirth, which called for the leftist guerrillas to return to their hit-and-run roots.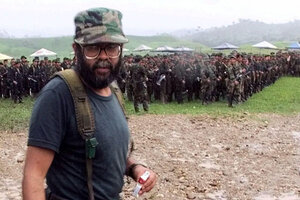 Scott Dalton/AP/File
The killing of the supreme commander of Colombia's top rebel group may delay rather than precipitate a negotiated end to the country's nearly half century of civil strife, analysts say.
Guillermo Leon Saenz, better known by his nom de guerre Alfonso Cano, maximum leader of the Revolutionary Armed Forces of Colombia (FARC) was killed Friday after a bombing raid on his remote camp in southwestern Cauca province.
Throughout most of his 33-year career in the FARC, Cano was known as a recalcitrant Marxist, convinced that the rebels could take power by force. Cano largely remained on the sidelines of ultimately failed peace talks between 1999 and 2002 with the government of then-president Andrés Pastrana, while creating and strengthening political movements tied to the FARC.
When he took over as supreme leader of the FARC in 2008 after the death of natural causes of legendary leader and founder Manuel Marulanda – one of a series of serious setbacks for the rebel group that year – Cano launched Plan Rebirth. That plan called for the rebels to return to their guerrilla roots, using hit-and-run tactics to attack government troops and relying more heavily on urban militias.
Cano's attempts to spark dialogue
But while Cano led the new FARC offensive, he made overtures to the government of President Juan Manuel Santos.
He floated the possibility of peace talks and even praised a new law to return land to victims of Colombia's conflict. His strategy, analysts explain, was to sit down at the negotaiton table from a strengthened position.
Cano had managed to win a consensus among the FARC leadership to seek peace talks with the government, says Arial Avila, a conflict analyst with the Nuevo Arco Iris security think tank in Colombia's capital, Bogotá.
In a video message released in August, Cano said: "Dialogue is the way."
"They [members of FARC's ruling secretariat] were basically discussing the hows and wheres," says Avila.
With Cano's death, it is now unclear whether that consensus will hold.
In statement issued Saturday, the FARC secretariat described Cano as the "most fervently convinced in the need for a political solution and peace." 
Possibility of peace talks now 'remote'
"For now, the possibility of talks is more remote," says Alejo Vargas, professor at Colombia's National University. "The new leadership will have to regroup and adjust."
The government strategy of "decapitation" – or targeting the FARC'S top leadership – has "slowly killed off the leaders who had any sort of capacity to negotiate," says Jorge Restrepo, director of the Bogotá-based Conflict Analysis and Resource Center.
"By killing Cano, they killed the opportunity for a negotiated peace," says Mr. Restrepo.
But Mr. Vargas says that the FARC makes decisions collectively, so "eventually, whoever takes over, will maintain the same positions."
The FARC secretariat appeared to confirm that.
"There is a policy that has been laid out and that will continue," it said in the statement.
Who will lead the FARC next?
Cano's successor will most likely be either alias Ivan Marquez, or alias Timochenko, both of whom represent the more ideological wing of the FARC. Both are believed to move along the Colombian-Venezuelan border. Another, more military option is Joaquin Gomez, commander of the FARC's powerful and cash-rich Southern Bloc.
"Whoever replaces him will not have the same command and control over the troops," Mr. Santos said. If true that could make it even harder to bring the rebel group to peace talks.
Santos, since taking office in August of 2010, has said repeatedly that the doors to peace negotiations are "not locked." 
In fact, his government recently proposed a bill that would give the government the tools it would need to negotiate with the guerrillas. But Santos has insisted on gestures from the guerrillas that they are serious about a negotiated peace.
On Saturday, after congratulating troops who participated in the operation, Santos reiterated that condition for peace talks to begin.
"If they show us a real will to reach an agreement, it could happen," he said. "Meanwhile, we will keep insisting on the military route."