'Honor killings' in Canada: 5 responses to the Shafia verdict
A Canadian court found two Afghan immigrants and their son guilty of murder on Sunday in the so-called "honor killings" of four female family members. An "honor killing" is loosely defined as the killing of a relative, especially a girl or woman, who is believed to have brought dishonor to the family through actions such as dressing promiscuously, premarital sex, or eloping.
Here are five opinions and editorials published in Canadian news outlets after the guilty verdict, which carried a sentence of life in prison with no parole for 25 years.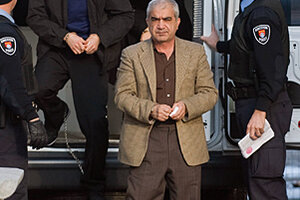 Graham Hughes/The Canadian Press/AP
1.

'Honor killings' deserve harsher penalty than first-degree murder

Opinion Editorial by Canadian news agency the QMI Agency, and published in the Calgary Sun.

"The Shafia case, despite its high profile, was approximately the 14th murder case in recent years where so-called "family honour" was the toxin behind the murder of innocents.

While first-degree murder convictions deal out the harshest penalty Canada has to offer, the Harper government might consider adding a dangerous offender designation to "honour killing" convictions — just to ensure they never draw a breath of air outside a prison.

It should also do something about the red flags that went ignored, by the police and by social service agencies, when the Shafia children tried to seek safety and refuge.

Canada must protect such ... young people who come to our shores and want to be part of this country — not the country that they fled, and the brutal customs back home.

Canada should mean belonging, and assimilating."