Zetas break out of prison in Mexico. Who are they?
According to Mexican authorities, the Zetas have become the biggest drug trafficking organization in Mexico. A recent report from Stratfor, based on data from Mexico's attorney general's office, says the group now operates in 17 states, surpassing the geographical sway of the once-dominant Sinaloa Federation.
On Feb. 19 Zeta members allegedly instigated a prison riot, killing members of the opposing Gulf Cartel, and covering up their escape. Here are four questions about the Zetas, answered.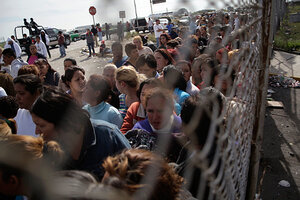 Daniel Becerril /Reuters
1.

What are the origins of the Zetas?

The Zetas are former elite military members who deserted the army and began serving as the armed wing of the Gulf Cartel in the 1990s. But when those two groups split in early 2010, the Zetas became their own organization, rising today to become one of two dominant players in the drug trade in Mexico. They control much of the east of the country, while their rivals, the Sinaloa Federation, control the west. The Zetas received international attention in Sept. 2011, after 35 corpses were left on a busy roadside during rush hour in the port of Veracruz. The so-called "Zeta-killers," a group of hooded men who appeared on YouTube claiming that society was fed up with the brutal tactics of the Zetas, claimed responsibility.