Which Latin American countries are the most socially inclusive?
Americas Quarterly created a new 'social inclusion index' to compare countries across the region and track their progress over time.
It's crucial today, says Christopher Sabatini, editor-in-chief of the policy journal, to understand not only measures of economic advancement but political freedoms and citizen perceptions of change in their nations.
Americas Quarterly measured data in 11 countries, using 15 variables. Here are the three top countries, two poorest-ranking countries, and one whose ranking may come as a surprise: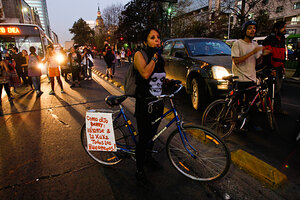 Roberto Candia/AP
Top dog: Chile

Chile received the top score of all nations polled, at 71.9. The Southern Cone country has long been considered a leader in the region for democratic and economic stability, which has translated into a better quality of life for Chileans, as this survey measures. It places in the top three for 11 out of 15 variables measured. One notable exception is its position next to last in terms of civil society participation. That has started to improve with student protests that have swept the country over the past year, but overall it points to a need for political renovation in Chile, says Mr. Sabatini.