Mexicans vote: 4 key reforms the next president must tackle
Mexicans are at the polls today to elect a new president, and the nation is eagerly awaiting the results: Enrique Peña Nieto, from the Institutional Revolutionary Party (PRI), who has been the frontrunner in polls; Andres Manuel Lopez Obrador of the leftist Party of the Democratic Revolution (PRD); or Josefina Vazquez Mota of the ruling National Action Party (PAN).
But no matter who takes the race, the next leader faces a difficult reform agenda if Mexico is to fulfill its dream of becoming a country of middle class citizens living within the rule of law, instead of a nation that exports millions of residents abroad and is increasingly wearied by deadly drug violence. "Mexico has not lived up to [its] potential," says Lorenzo Lazo, a political analyst in Mexico City who served in several PRI administrations. And if it is going to, here are the key reforms the next leader must tackle, according to observers across the political spectrum: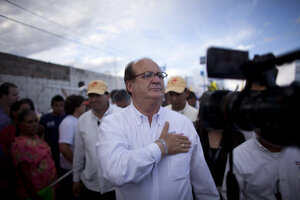 Alexandre Meneghini/AP
Can the violence be curbed?

Security is the nation's most visible problem and will be the next president's greatest challenge. Violence not only threatens the safety of Mexican citizens, but also government effectiveness, the way the world perceives Mexico, and how much investors are willing to invest there. Despite a military-led effort by President Felipe Calderón, heartily backed in morale and muscle by the United States, drug violence has surged, resulting in 50,000 deaths under Mr. Calderón's administration.

Mexico needs to put more resources into revamping its judicial system and creating a trustworthy police apparatus that is not only more effective at investigating crimes but is one that society trusts. "As long as prosecutions are ineffective, slow, and corrupt, it affects so many areas of life in Mexico," says Eric Olson, a Mexico expert at the Woodrow Wilson International Center for Scholars.