Cuban Missile Crisis: 5 ways leftist ideology lives on in Latin America
This week marks the 50th anniversary of the beginning of the Cuban Missile Crisis, when the US and the Soviet Union were on the brink of nuclear war over the installation of Soviet missiles in Cuba. It is what many consider the most dangerous conflict in modern history. This week also features the beginning of peace talks between the government of Colombia and FARC rebels, who emerged in 1964 as a group of communist peasants rebelling against the state, and later turned to the cocaine trade to fund their activities. Both events reveal the strands of leftist political ideology that are still alive throughout Latin America, long after the close of the cold war.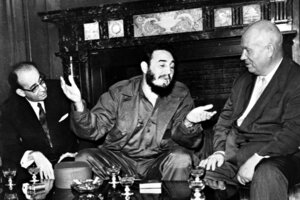 Prensa Latina/AP
Cuba

Cuba is the only Communist country in Latin America, and its move to a one-party system after the Cuban Revolution in 1959 set the stage for hostile US relations that endure today. While the Communist Party of Cuba had been active in the island nation since the 1920s, the current party makeup was organized by Fidel Castro in 1965. The system has persisted despite 50 years of embargo put in place by the US. Cuba was buoyed by the Soviet Union until its demise in 1991, underwent severe economic hardship through the '90s, and today receives support from Venezuela. While other political parties exist in Cuba, it remains a one-party system with elections that are considered a rubber stamp.

Fidel Castro headed the nation for half a century, until permanently ceding power to his brother in 2008 due to illness (he was head of the Communist Party until April 2011). Raul Castro, considered the more pragmatic of the two brothers, has implemented a series of economic reforms since taking power to revive the ailing economy, including allowing more Cubans to start their own businesses. But while Cubans and Cuba observers have hailed this economic opening, there has been no sign that political freedom will follow.