How can Venezuela resolve its political crisis? Six views.
Venezuela has been rocked by more than four months of anti-government protests and violent police crackdown. Dozens of Venezuelans have died and thousands have been arrested.
But resolving the crisis still seems out of reach. Peace talks brokered by the Union of South American Nations (UNASUR) and the Vatican stalled last month and have yet to produce any tangible results. And though the United States is considering sanctions, both the Venezuelan government and members of the political opposition have opposed the move.
The international community appears to be at a loss for a way forward, but Venezuelans – from students to community and religious leaders – have ideas of their own. Here are six perspectives on Venezuela's search for a peaceful path forward.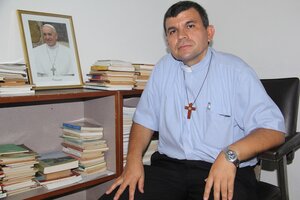 Andrew Rosati
The priest

Name: Father Domingo Plaza
Job: Priest at the Nuestra Señora del Rosario Church in Caracas
Way forward: Identify common ground

Father Domingo Plaza, a missionary from Spain, has worked in poor Venezuelan neighborhoods for almost 20 years. "The divisions here mean [you have to choose] one side or the other. It's a mindset that wasn't around when I first arrived," Father Plaza says.

Political divisions are so deeply engrained that they played a clear role in the breakdown of peace talks between the Chavista government and opposition politicians this spring, Plaza says. Yet, dialogue, he says, is the only answer for Venezuela. In order for talks to succeed, opposing sides need to identify common ground.

This shouldn't be hard, he says. "We are all affected by the same problems, such as rampant crime or the long lines many endure to find food staples. One way to do this is for the international community to help highlight existing commonalities and help leaders from both sides look past their ideologies and focus on the shared problems at hand, he says.

And then there's Father Plaza's personal expertise: spirituality. Leaders on both sides of the political fence profess their religious faith. Shared religious values and beliefs, he says, is surely a good place to start.