Briefing: Why violence has flared in Nicaragua
Frustrations with President Daniel Ortega's increasingly authoritarian presidency have mounted for years. In recent weeks, citizen protests and a violent crackdown have swept the country.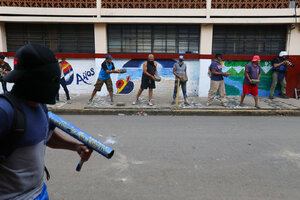 Esteban Felix/AP
For years, as neighbors like Honduras and Guatemala experienced political unrest and violence, Nicaragua was a bastion of calm. But in recent weeks, citizen protests and a violent government crackdown have swept the country.
Q: What's going on?
In April, President Daniel Ortega proposed a social security reform that would have increased employee payments but decreased benefits. It spurred small-scale protests, mostly by students. But a violent crackdown on the peaceful demonstrators has turned Nicaragua upside down. More than 100 protesters have been killed, according to the most recent tally by the local human rights organization, the Nicaraguan Center for Human Rights. On May 30, some 15 people were shot by suspected snipers during a peaceful Mother's Day march honoring student protesters who had been killed in demonstrations against Mr. Ortega's rule. As a result, talks between student protesters, the government, and the business community, which had been mediated by the Roman Catholic Church, fizzled out.
The social security reform was scratched a few days after it was proposed, but many across the country now say the only way to regain peace is for Ortega to step down.
Q: Is Nicaragua considered safe?
Although gang violence has soared across much of Central America over the past several years, where countries like El Salvador and Honduras rank as more deadly than many nations at war, Nicaragua hasn't seen the same level of bloodshed. It has a positive reputation internationally as a place to do business and invest, fostered by a close relationship between Ortega and the business community. But since winning the presidency in 2006, Ortega has strengthened his grip on power, chipping away at independent institutions and limiting freedom of speech. He has total control over the military and police, and the election commission and judiciary lean heavily in his favor. Citizen frustrations have been burbling for years, but this is the first time protests have maintained momentum, due in large part to the government's violent response.
Q: What do protesters want?
Protesters are calling for Ortega to step down and for early elections. "At this point I think there is no return to continue under a government that is clearly not securing human rights and one that has clearly weakened the opposition and any possibilities for transparent elections," a restaurant owner in the town of Granada told NPR.
In 2014, Ortega was able to change the Constitution so he could run for a third successive term in 2016. Many believe that Rosario Murillo, his vice president and wife, is being groomed to take his place on the 2021 ballot.
Ortega is the last revolutionary leader of his generation still in power in Latin America. He rose to fame in the 1979 overthrow of Anastasio Somoza, a United States-backed dictator; fought in the guerrilla war that followed; and led the country for five years until 1990.
The Sandinistas, members of the left-wing Sandinista National Liberation Front, which toppled Mr. Somoza, have had a long, complicated relationship with the Catholic Church. But prior to his 2006 presidential win, Ortega took steps to get the powerful religious institution in his corner by marrying Ms. Murillo in a Catholic church and calling for a total ban on abortion. But Nicaragua's Episcopal Conference of Catholic bishops has demonstrated where it stands today, calling the recent violence "organized and systematic aggression."
Q: Who is backing the president?
Although Ortega's strategic allies in the business community have publicly supported the protests, he does have supporters – from the head of the National Assembly seen on video calling for unions to "take back the streets," to members of the government-supported Sandinista Youth, who observers say spearheaded some of the early violence against peaceful protesters.
When Ortega returned to power in 2007, he made his party synonymous with fighting for poor people. Until recently, he was able to deliver on social programming that benefited underserved Nicaraguans. But since Ortega's government lost aid from leftist ally Venezuela as international oil prices plummeted, there is less wiggle room for it to meet the needs of the country's poorest citizens and traditional supporters. That, combined with what many see as a blatant rejection of the values of democracy that the Sandinistas originally fought for, has brought even historical allies out to the streets calling for change.
Q: What's next?
Following the deadly violence on Mother's Day, few expect the dialogue attempts inside Nicaragua to pick up again until the government commits to investigating the deaths and suspending its use of force.
The Organization of American States met in early June in Washington, where Nicaragua-watchers hoped to see some kind of effort by regional neighbors to put a halt to the spiraling violence. The OAS condemned the violence and appealed to the Nicaraguan government to "demonstrate commitment and engage constructively in peaceful negotiation." However, given the region's history of shying away from intervention in neighbors' internal affairs – seen most clearly in the OAS's inability to come up with a resolution on Venezuela – few are holding their breath that the regional body can do more to resolve the conflict than issue strongly worded statements.