Is Mexico close to capturing its most wanted fugitive?
(Read article summary)
Mexico's arrest of Felipe Cabrera Sarabia, a Sinaloa security chief, suggests that the government is homing in on Sinaloa leader Joaquin 'Chapo' Guzman, the world's most wanted mobster.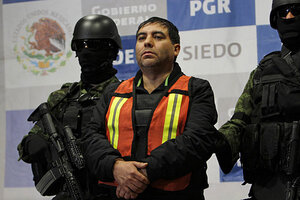 Marco Ugarte/AP
Mexico's capture of a "Chapo" Guzman "security chief" means one of two things: Mexican authorities are close to seizing the most wanted drug trafficker in the world; or Mexican authorities are not disciplined enough yet to capture the most wanted drug trafficker in the world.
In a news conference on December 26, the Mexican army said (see video at original blog) Felipe Cabrera Sarabia, alias "el Inge" (short for "Engineer" in Spanish), was captured in the state of Sinaloa, from which Joaquin Guzman's Sinaloa Cartel takes its name.
[See InSight Crime's Sinaloa Cartel profile]
The army added that Mr. Cabrera managed some production of drugs in the neighboring states of Durango and Chihuahua. Cabrera's crew is also fighting another local group, the "Ms," in Durango, the army said.
The government has unearthed numerous clandestine graves in the state, which presumably are a result of this battle for control of the local drug market and the international corridor. In addition to production, Durango is an important storage and dispatch area for drugs headed north.
More importantly, the army said that Cabrera was part of Mr. Guzman's security team in the Sierra Madre mountains where the most wanted capo in the world is allegedly hiding.
[See InSight Crime's 'Chapo' Guzman profile]
If true, this capture begs the question: Why not wait? Other governments, most notably the United States and Colombia, have shown that the best way to find a top leader is by following their most trusted servants and guards.
The most recent example is the Colombian government's nearly four-year operation to kill the leader of the Revolutionary Armed Forces of Colombia (FARC) Guillermo Leon Saenz, alias "Alfonso Cano."
According to an account in Semana magazine (see Semana article in English here), the Colombians started infiltrating the units close to Cano from even before the moment he was named rebel commander-in-chief in 2008, after the death of the guerrillas' maximum leader, Pedro Marin, alias "Tirofijo," by natural causes.
Close to 30 agents, the magazine says, infiltrated pieces of the organization beginning in 2007, including several who posed as small shop owners that could sell supplies to the guerrillas, and others who worked as drivers so they could move in and out the rebel-controlled territory.
The Colombians also recruited brothel owners and prostitutes, as well as other small town workers who could give them an idea of the movement and size of the rebel columns.
After several years, the Colombians identified a key member of Cano's security detail, who ultimately led them to their target. They bombed Cano's camp flushing him from his hideout, then overwhelmed him with Special Forces troops who shot and killed him as he tried to scamper down the mountain top.
The United States, who have spent the last 15 years teaching the Colombians many of these new tricks, also illustrated this technique in its hunt of Osama bin Laden. The accounts of this operation are well chronicled.
Suffice to say that patience, in both cases, was critical.
Mexico's government has certainly improved in its ability to track, capture and/or kill top criminal leaders. In the last two years, it has neutralized a half-dozen top Mexican drug traffickers.
But Chapo continues to elude it and that failure hangs like an albatross over the Felipe Calderon administration as it begins its sixth and final year in office.
Mr. Calderon may not reach his ultimate target but would do well to learn from his neighbors and at least leave in place a strategy that will help his successor achieve what he has not.
--- Steven Dudley is a director at Insight – Organized Crime in the Americas, which provides research, analysis, and investigation of the criminal world throughout the region.