In China's primary school stabbings, some see social injustice as culprit
Children returned to class Tuesday after three primary school stabbings last week. On Web chat rooms and blogs, commentators pointed to China's repressive one-party rule, and raised concerns that the young were an easy target of those seeking to avenge anger over corruption and inequality.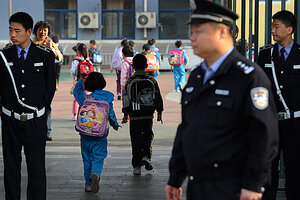 Andy Wong/AP
Police mounted special guard on primary schools around China Tuesday, as children returned to class for the first time since three back-to-back knife attacks last week left more than 50 toddlers injured.
Chinese officials and citizens, meanwhile, continued to ponder the social and emotional strains in China's tightly controlled but rapidly changing society, searching for an explanation for the shocking wave of violence.
A top member of the ruling Communist party appeared to suggest Monday that the perpetrators of five separate attacks on primary schools and kindergartens over the past five weeks may have acted out of frustration with social injustice rather than just mental instability.
"Party and government officials should maintain close contact with local communities, work units, and families to familiarize themselves with public opinion and resolve peoples' complaints," said Zhou Yongkang, a member of the nine-man Standing Committee of the Communist party Politburo at a conference on maintaining stability.
'A society that has no release valve'
On Internet chat rooms and blogs, where the knife attacks have dominated discussion for several days, many commentators have blamed the nature of Chinese society under repressive one-party rule.
"It has become the most effective way of avenging oneself on society," wrote one of China's most widely read bloggers, Han Han, in a post that was quickly deleted by the authorities. "In a society that has no release valve, killing the weakest members of society has become a release."
"The fundamental problem is that our society is sick," argues Zhou Xiaozheng, a retired sociology professor in Beijing. "We suffer from corrupt officials, unfair distribution of resources, and an unjust legal system. These are the sorts of things that attack a society's immune system."
Copycat attacks
Attacks on young children are not unknown in China; dozens of youngsters were injured in a series of knifings in schools and day care centers six years ago. The most recent spate began on March 23, when a man said to have been disappointed in love attacked students outside an elementary school in the eastern city of Nanping, killing eight people and wounding several others.
That incident was followed by four more copycat attacks in the space of the last three weeks, prompting the Education and Public Security ministries to issue sharp instructions that school security should be stepped up nationwide.
The motives of the five attackers are not clear, and undoubtedly vary; rumors have attributed their frenzies to stock market losses, the confiscation of an illegally built house, and romantic failure, among other shocks. But many Internet commentators have been quick to echo Han Han's charge that "social injustice and unfairness are major impetuses for these murders."
"The attackers '… motive is to get revenge on society," suggested a blogger known as "Beijing Jinjimei" on Myspace.com. "Disadvantaged groups who are bullied by society picked children, an even more disadvantaged group, as their targets. Their own psychological problems are doubtless the reason, but society's unfairness is definitely the catalyst for the tragedies."
Related stories: