Cheonan warship sinking: Will South Korea blame Kim Jong-il directly?
South Korea's President Lee Myung-bak may specifically blame North Korea's President Kim Jong-il for the Cheonan warship sinking on March 26. On Monday, President Lee plans to give a speech outlining his nation's response to the North Korea torpedo attack.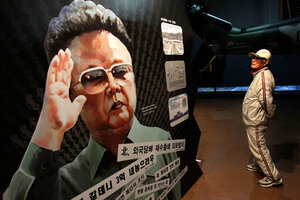 Jo Yong-Hak/Reuters
South Korea's President Lee Myung-bak is considering blaming North Korea's leader Kim Jong-il by name for the first time Monday when he condemns North Korea's sinking a South Korean navy ship as a "clear armed provocation."
Mr. Lee's top spokesman raised the possibility of an extraordinary personal mention of Kim Jong-il in an address Monday in which the president will reveal his plan to ask the UN Security Council to punish North Korea by strengthening sanctions.
Calling Kim Jong-il out by name could raise the risk of North-South confrontation. South Korean leaders normally address the North's policies, statements, or deeds, but refrain from such direct criticism of the North Korean leader.
Yonhap, the South Korean news agency, quoted Lee Dong-kwan, senior secretary for public affairs at the presidential Blue House, as saying Lee "may mention North Korean leader Kim Jong-il in his speech, but it's not yet decided."
For the leader of South Korea to criticize the leader of North Korea by name would be indicative of the intensity of the South's desire to avenge the episode in which a North Korean torpedo sank the navy corvette Cheonan on March 26 off the Korean west coast. South Korea last week concluded a lengthy investigation that "overwhelmingly" proved a North Korean submarine had fired the torpedo that tore the vessel apart, killing 46 sailors, mostly in the stern, while 58 escaped the main portion.
President Lee is sure to say North Korea violated the UN charter as well as the terms of the armistice that ended the Korean War in July 1953, and he's likely to throw in some strong verbiage along with the pledge of "firm action if the North conducts any provocations," says Lee Dong-kwan.
Limited options for South Korea
But analysts say that President Lee has few practical options as he sets a diplomatic and political course intended to arouse support for South Korea's position at home and abroad without inciting a more serious conflict with the North.
"South Korea has lost the momentum in condemning North Korea," says Lee Chang-chong, a former ambassador, "We don't have much options. They know very well what we can and cannot do."
In addition to hoping to strengthen UN sanctions on North Korea, President Lee is expected to announce a ban on North Korean ships entering the Korean straits, the waters between the island of Jeju and the South Korean mainland, and will seeks joint US-Korea anti-submarine warfare exercises.
What will China do?
But Mr. Lee says that South Korea faces an uphill struggle to get the UN Security Council to take a strong position in view of China's reluctance to offend North Korea. "We need to pressure China not to continue to advocate for North Korea," he says.
Ryoo Kihl-jae, professor at the University of North Korean Studies here, agrees that South Korea's options are "very limited" beyond pleas for support of the UN Security Council.
If the South coordinates with the US on training for anti-submarine maneuvers in the Yellow Sea, he notes, "it raises a threat against China," on the other side of the sea.
As for tough economic measures, Mr. Ryoo doubts the United States will want to bar all financial dealings by US institutions, or institutions doing business with them. "I'm not sure the US will support such a gesture," he says.
The US was the forefront in getting the UN Security Council to impose trade sanctions after North Korea tested a nuclear device a year ago. But in the past, in the interest of getting the North to the negotiating table, the US has backed off of financial sanctions. In 2007, it dropped sanctions imposed against the North after Banco Delta Asia in Macao was exposed as a conduit for counterfeit US dollars printed in Pyongyang.
Mr. Ryoo also questions whether President Lee will attack Kim Jong-il by name though he may refer to him as the North's "supreme leader" while accusing him of ordering the attack on the Cheonan. North Korea's national defense commission, led by Mr. Kim, has denounced South Korea's report on the sinking as "fabrication," called President Lee a "traitor" and vowed "merciless punishment" in retaliation for any reprisals by the South. Endit/kirk
RELATED STORIES: