South Korea dials back tough talk over Cheonan sinking
One day after China refused to take a stand against North Korea over the March 26 sinking of South Korea's naval ship, Cheonan, South Korea appears to be moderating its rhetoric against the North over the sinking.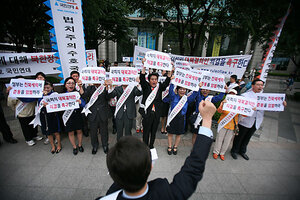 Wally Santana/AP
South Korea tempered its tough talk Monday with signs of a desire to cool down tensions with North Korea before they boil over into fresh outbreaks of violence with unpredictable consequences.
The relatively low-key response comes just one day after China refused to take a stand against North Korea over the March 26 sinking of the Cheonan, a South Korean naval vessel.
First, South Korea's Defense Ministry said it was putting off a propaganda campaign of balloon drops and mega-loudspeaker broadcasts into North Korea that the North had said it would answer by firing into the speakers. Then South Korea's Unification Ministry indicated the government was carefully modulating its responses to the Cheonan sinking in order to test the North Korean response.
"We should decide policy considering various considerations," was the highly ambivalent reply of the vice unification minister, Um Jong-sik, when asked why the government had decided to delay a propaganda blitz that was certain to invite outrage from the North.
Kaesong economic complex to remain open
Just as significant was the sense that neither North nor South Korea want to shut down the economic complex at Kaesong, just above the line about 40 miles north of Seoul, where more than 100 South Korean factories employ more than 40,000 North Korean workers. The complex remains the last point of normal contact between the two Koreas since President Lee Myung-bak shut down all inter-Korean trade and financial dealings with North Korea on May 24 in retaliation for the sinking of the Cheonan, in which 46 sailors died.
Mr. Um said the government "would maintain the Kaesong complex right now" when asked about the comment of a North Korean official quoted as saying the North would "continue efforts to move the Kaesong industrial complex forward."
South Korean officials glossed over concerns that several hundred South Korean technicians and managers in the complex could be held as hostages in Kaesong in the event of more North-South clashes.
"We should guarantee safety to South Koreans," said Um. "That's our top priority." The danger, however, has clearly not reached a level high enough for the government to advise South Koreans to leave the complex.
Choi Boh Seon, director-general for inter-Korean cooperation at the Unification Ministry, was reassured by reports from Pyongyang. North Korea wants "inter-Korean economic cooperation," he said, "and will make an effort to build up the complex."
War drills
Tensions toward North Korea appeared to have decreased somewhat even as US and South Korean military officers planned for military war games and several thousand South Korean troops staged an exercise south of the demilitarized zone that has divided the Korean peninsula since the Korean War ended in July 1953. Defense officials insisted the exercise, involving about 50 tanks supported by helicopters and artillery, was routine, previously scheduled, and had nothing to do with current standoff.
One major factor in South Korea's slow movement toward a more moderate position appeared to have been talks on Sunday among the prime ministers of South Korea, China, and Japan.
The China factor
Chinese Premier Wen Jiabao avoided any expression of support for South Korea but made clear China's desire for thwarting any moves toward a second Korean War.
Mr. Wen promised "proactive efforts for closer communication" among all those involved in the Korean peninsula and would deal with the Cheonan issue "in a direction that promotes peace and stability of the Northeast Asian region."
Those comments were wide of the goal set by South Korea and the US for persuading China to join in statements of condemnation of North Korea.
South Korea on May 20 released the results of an international investigation that showed that a North Korean midget submarine had fired the torpedo that tore the Cheonan in two parts and sank it within a minute or two in disputed waters in the Yellow Sea.
Nonetheless, President Lee gave every appearance of welcoming Wen's remarks. He and the Japanese prime minister, Yukio Hatoyama, who offered unreserved support for the results of the investigation, appeared smilingly in photographs with Wen as the conference wound up Sunday on the island of Jeju, off the southern end of the Korean peninsula.
At the Unification Ministry, Mr. Um repeated South Korean demands for a North Korean "apology" and "punishment" for those who ordered the attack.
Um appeared undeterred when reminded how unlikely it seems for North Korea ever to go along with such demands. "We should make abnormal inter-Korean relations normal," he said. "We are in the process. The possibility might be 50-50."
Mr. Choi offered one substantive reason for hope.
He said South Korean factory managers at the economic complex had told him the North Koreans were working harder.
"They are more committed to their work,'" he said. "That's because they want to maintain this industrial complex."
Related: