Why South Korea's prime minister appears poised to resign
South Korean Prime Minister Chung Un-chan's resignation would be a blow to President Lee's government. Chung's efforts to revise a partial government relocation initiative was rejected by parliament last week.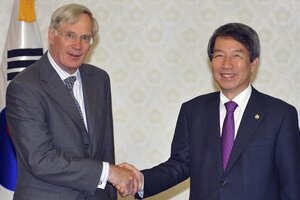 Ahn Jeong-Won/Yonhap/Reuters
South Korean Prime Minister Chung Un-chan appears poised to resign, in what would deal a humbling blow to the government of Lee Myung-bak, who picked Mr. Chung less than a year ago to lead a major policy initiative.

The parliament's rejection last week of that drive – which sought to revise the planned relocation of several government offices to a new city – means Mr. Chung has become a political burden to President Lee, analysts say.

Local media reported earlier this week that Mr. Chung expressed his plans to resign in a Saturday meeting with the president. On Wednesday, the Yonhap news agency quoted a source at the presidential office as saying Lee was ready to accept that offer.

Kim Chang-young, a spokesman for the prime minister's office, would not comment on the report.
More political theater
But more political theater may precede Chung actually stepping down, says Hahm Sung-deuk, professor of political science at Korea University.

"At this moment the president is trying to save his image," says Mr. Hahm, adding that the Lee government is now engaged in a "face-saving strategy."

Mr. Hahm speculates the president will not immediately accept Chung's resignation because it would appear tactless, but that ultimately the prime minister will go.

South Korea is one of about 80 countries, including Iceland and Madagascar, that have both a president and a prime minister. Here the president serves as chief of the executive branch; the prime minister is his lead assistant, and would act as president in the case of his death.

"The incumbent prime minister is a symbol of the revised plan for Sejong City," Hahm says. "Unfortunately, the Sejong revision plan was rejected by the people in the June 2 elections, therefore there is no political utility for the current prime minister for the president."

Last month's regional elections saw Lee's Grand National Party (GNP) lose key seats, including in the Chungcheong region where Sejong City is being built.
Sejong City a compromise
Plans for the new town were introduced by Roh Moo-hyun during his 2002-2008 presidency, after his initial effort to entirely relocate the capital was deemed unconstitutional.

Sejong City, named after the king who invented Korea's alphabet, was meant to be a compromise that would ease congestion in Seoul by moving some government offices out of the capital. It was also expected to be an economic boon to the underdeveloped central part of the country, winning Mr. Roh political favor among a swing constituency.

Chung became the point man for Lee's opposition to the plan when he took office in September last year, drafting a revision to make Sejong a business hub instead. Backed by Lee, formerly mayor of Seoul, the prime minister stressed that splitting the capital would cause inefficiency. Critics thought he was neutering the plan.

Even after the proposal was rejected in parliament Thursday last week, Chung maintained his stance.

"If Sejong is built according to the original plan, the president will be in Seoul while the prime minister and other ministers will be in Chungcheong," he said in a speech the following day. "And when an urgent national issue arises, the decisionmaking process will be slowed and it will be more difficult to handle the crisis."
Lame duck?
The failure of the effort, combined with the outcome of the June 2 elections and political infighting within Lee's party, leaves a rough road ahead for the administration.

One Korean political expert, who requested anonymity because the issue is sensitive, says the impact of Chung's resignation on the president's ability to govern "is certainly negative."

"I think we will see a lame duck quite soon," he adds.

Then there's the question of who will fill Chung's shoes.

If I were [the president], I would appoint Park Geun-hye," says the expert, referring to Lee's chief political rival in the GNP and a longtime supporter of the original Sejong City plan. "But I guess that is not likely."
Related: