5 key people to watch in North Korea
The struggle to name a successor to North Korea's leader Kim Jong-il appears likely to climax in a historic conference next week.
The conference, the first in 44 years, is slated for Sept. 28. Debate among North Korea's leaders over anointment of Mr. Kim's third son, Kim Jong-un, is widely believed to have delayed the meeting.
Just because delegates will be gathering for the conference is no guarantee that it will end in announcement of a leadership lineup. Whatever the outcome, it is certain to provide fodder for speculation about the future of North Korea after Kim leaves the scene.
As North Korea heads into this meeting, here is a good idea of who might be in positions of power after Kim Jong-il steps down: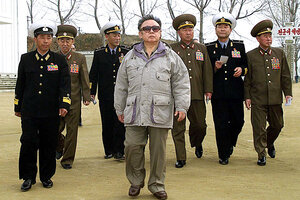 KCNA/AFP/Getty Images/Newscom
1.

Gen. Kim Kyok-sik

Gen. Kim Kyok-sik, in charge of troops in the southwest of North Korea and deemed a total loyalist, is believed to have personally masterminded and ordered the attack in March on the South Korean Navy corvette, the Cheonan, in which 46 South Korean sailors died.

"He may be one of the most trustworthy generals," says Kim Tae-woo, a senior fellow at the Korea Institute for Defense Analyses . He's also one of the youngest, though still in his 60s. Analysts suggest that he might adopt a more independent course once Kim Jong-il steps down – and may not want to support Jang Song-thaek.

General Kim is a former Army chief of staff and was somewhat "demoted" to his present post, but clearly has support where it counts.