How past Japan earthquakes prepared nation for today's historic temblor
Children knew as soon as their surroundings started shaking during today's Japan earthquake to don protective hoods and duck beneath their desks.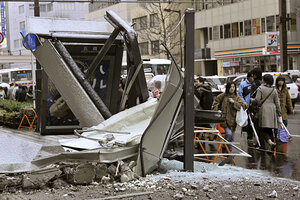 Kyodo News/AP
In a country always prepared for earthquakes, today's 8.9-magnitude temblor caught battle-hardened Japanese off guard. Yet for all the destruction and the prospect of a significant rise in the death toll, today's quake also demonstrated how Japan's high state of readiness likely prevented an even bigger catastrophe.
This nation's 127 million people live in constant precaution for the moment the earth begins to shake violently. Many here area always prepared for the worst, stocking up on bottled water, dry rations, and torch-equipped radios that keep them connected with frequent broadcasts on the damage and which areas to avoid.
School students knew as soon as their surroundings started shaking today to don their protective hoods and duck beneath their desks. Teachers in some areas of Tokyo escorted home children wearing protective headwear. Local TV announcers delivered bulletins in hardhats.
RELATED: World's five biggest tsunamis
For all the destruction, the prospect of $10 billion in damage, and a significant rise in the death toll – things could have been much worse.
Indeed, the petrified office workers who poured onto the streets of Tokyo this afternoon emerged from buildings that, for the most part, today meet stringent safety regulations that enable them to withstand strong earthquakes. The country has learned much from the 1995 Kobe earthquake that exposed the poor state of many office buildings – most of the 6,400 victims died after being trapped beneath rubble – and a woefully slow response mechanism at the national government level.
"We looked around at the surrounding skyscrapers visibly swaying, like trees blowing in the wind," says Nicholas Roberts, a market researcher from London who recently moved to Tokyo. "It was only talking to people later that I learnt that this bendiness is part of what makes them resistant to quakes. At the time I was genuinely scared that one of these 100-story building could come down on top of us."
"Seeing how the city had withstood the shaking did at least reassure me," he adds. "The fact that the buildings in Tokyo are built with the risk of earthquakes in mind must have saved a lot of lives today."
READ: First-person account from the Japan earthquake
Those who were unable to walk home were preparing to spend the night at designated shelters, as the capital's momentarily crippled transport system slowly came back to life.
Still, today's quake – one of the biggest in Japanese history – that struck the country's northeast coast and the deadly force of the tsunami that followed has rattled and dazed foreigners and nationals alike.
"The surprising thing was that I wasn't the only one who seemed unprepared," adds Mr. Roberts of the quake that hit at 2:45 p.m. local time. "I know that native Japanese go through regular drills when they're at school for how you're supposed to cope in this kind of situation, but my Japanese colleagues at the job I started just a week ago seemed as much at a loss about what to do as I was."
For the country's nationals and foreign residents like, the earthquake, which has so far killed more than 300 people and left large swaths of the coast ablaze or beneath water, the earthquake was a frightening reminder of their home's vulnerability to natural disasters. Japan sits on the "Ring of Fire" that circles the Pacific and is the most seismically unstable region in the world.
"Perhaps there just is no way you can really prepare for an earthquake," says Roberts.