Japan earthquake: Officials say nuclear catastrophe averted
Fears of a nuclear meltdown in Japan have subsided after a reactor that was damaged in Friday's devastating earthquake reportedly emerged intact from an explosion.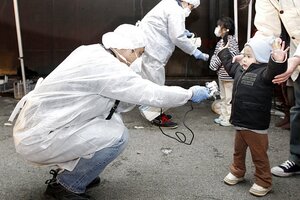 Kim Kyung-Hoon/Reuters
Fears of a nuclear meltdown in Japan have subsided after a reactor that was damaged in Friday's devastating earthquake reportedly emerged intact from an explosion.
A day after the country was thrown into chaos by a fierce tsunami triggered by the largest earthquake in Japan's history, the country was, for a few terrifying hours, bracing itself for a possible nuclear catastrophe.
Television cameras captured the moment that smoke poured from what at first appeared to be one of four reactors at the Fukushima Daiichi nuclear plant, located 150 miles north of Tokyo.
IN PICTURES: Japan's 8.9 earthquake
After a few nerve-wracking hours, however, the government and the plant's operator, Tokyo Electric Power, said the damage had been confined to the walls and roof surrounding the reactor, sparing its metal casing.
The chief cabinet secretary, Yukio Edano, told a televised press conference that radiation around the plant had, in fact, started to decrease.
A "tiny" amount of radiation had leaked earlier in the day when officials attempted to relieve pressure inside the reactor.
"We have confirmed that the walls of this building were what exploded, and not the reactor's container," Edano said, adding, "There was no large amount of radiation leakage outside. At this point, there has been no major change to the level of radiation leakage outside, so we'd like everyone to respond calmly."
Some exposure to radiation
Tokyo Electric said four workers had suffered minor injuries in the explosion and were being treated in hospital. But Japanese TV reported that three people who were seeking refuge nearby when the explosion occurred may have been exposed to radiation.
The reactor was one of several at two nuclear plants in Fukushima prefecture whose cooling systems failed after the area was shaken by Friday's 8.9-magnitude earthquake.
Prior to the explosion, officials had detected eight times the normal radiation levels outside the facility, and 1,000 times normal inside the affected reactor's control room.
As officials attempted to relieve the pressure building up inside the affected reactors, the chilling prospect of a Chernobyl-style meltdown momentarily drew media attention away from the human tragedy unfolding elsewhere in the region.
As a precaution, the government expanded evacuation zones around both of the affected plants and advised residents to leave the area. In all more than 51,000 resident living near the facilities have been evacuated.
Many feared the worst when TV pictures showed the reactor building had been reduced to its metal frame.
Sea water used to cool reactor
The firm said it planned to fill the reactor with sea water to cool it down and reduce pressure, while officials said its core remained intact.
The International Atomic Energy Agency said it was urgently seeking details from Japanese authorities, adding that plans were being made to distribute iodine to local residents.
The incident could call into question Japan's enthusiasm for nuclear power. The country's 54 reactors provide 30 percent of its electricity, and there are plans to increase provision to 50 percent by 2030. But the industry has been plagued by accidents and allegations of cover-ups.
Anti-nuclear campaigners said the dangers of a serious accident remained.
"Fukushima remains under threat of a serious reactor meltdown," said Jan Beranek, head of Greenpeace International's nuclear campaign. "This would potentially create an iodine cloud, which could spread high radiation levels to both the environment and population over many tens of kilometers."