Ai Weiwei: Why does he make Chinese authorities nervous?
The famous Chinese artist and political dissident Ai Weiwei hasn't been heard from since his arrest Sunday by Chinese authorities. The disappearance of Mr. Ai, who uses his art to express political dissent, is just one of a slew of recent arrests by the Chinese government in what seems to be a bid to prevent protests inspired by the Middle East uprisings to China. Ai has long been at odds with the Chinese government, and this isn't the first confrontation.
What has made Ai a marked man in China?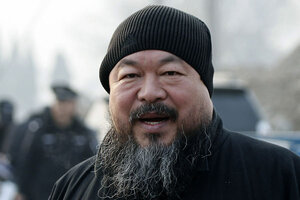 Andy Wong/AP
He is internationally known.

Ai is China's most internationally recognized artist. He designed the "Bird's Nest" stadium for the 2008 Beijing Olympics (although he later distanced himself from the project, saying he did not want to glorify China and the Olympics) and has shown his work in numerous galleries and museums around the world.

His "sunflower seeds" exhibition, which consists of more than 100 million porcelain sunflower seeds hand-painted by more than 1,000 Chinese artists, is on display at London's Tate Museum. His acclaim makes his activism more difficult for Chinese authorities to tamp down.