East Asia's top 5 island disputes
East Asia is home to several territorial disputes, which occasionally escalate into regional violence. Many of the island territories are small, isolated from the countries' mainlands, and sparsely populated. But strategic interests and abundant natural resources make them valuable. Here are five of East Asia's flashpoints: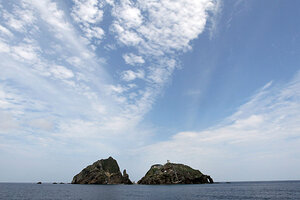 Lee Sang-hak/Yonhap/Reuters
Takeshima/Dokdo islands – claimed by Japan and South Korea

An island chain in the Sea of Japan, known as the Dokdo islands by Seoul and Takeshima by Tokyo, was claimed by Japan in 1905, prior to its annexation of the Korean peninsula. However, South Korea says the islands became its territory when it declared independence in 1945. The islands are a sore reminder of this colonial past and are patrolled by South Korean police. They were in the spotlight this week after South Korea denied Japanese lawmakers entry into the country because they planned to pay a visit to the South Korean island closest to the disputed chain. Tensions also flared in January 2011 after Japan arrested the captain of a South Korean fishing vessel that had floated into the disputed territory.