Obama in Australia: US reasserts Pacific role with eye on rising China
President Obama in Australia today pledged to boost the US military presence in the Asia-Pacific region. The significant strategic shift is popular with regional governments wary of China's rise.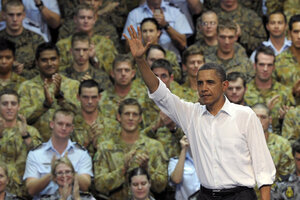 Susan Walsh/AP
The planned expansion of the US military presence in Australia underlines US determination to counter China's growing economic and military might in the Asia-Pacific – and highlights the growing strategic importance of long-time ally Australia, analysts say.
In a speech to the Australian parliament in Canberra Thursday, President Obama  – who later flew on to Bali to attend the East Asia Summit – declared the region "a top priority." He told politicians: "As a result, reductions in US defense spending will not – I repeat, will not – come at the expense of the Asia-Pacific."
The agreement between Washington and Canberra, which comes on the 60th anniversary of the Australia, New Zealand, United States Security Treaty (or ANZUS) defense treaty, will see Marines, naval ships, and aircraft deployed to northern Australia next year. While the eventual task force of 2,500 troops will be relatively small, US defense officials say the location will provide easier access to the South China Sea, a vital shipping route, and an area where China is embroiled in sovereignty and territorial disputes. 
Significant shift in policy
Security analysts say that – with the US withdrawing from Iraq and "drawing down" its presence in Afghanistan – the Australian plan reflects a strategic foreign policy pivot away from the Middle East and the war on terror toward Asia, where China appears to be seeking a more dominant role.
Alan Dupont, director of the Centre for International Security Studies at the University of Sydney, describes the refocusing of priorities as  "the most significant shift in US strategy since the cold war."
Professor Dupont believes the US also wants to disperse its forces more widely across the Asia-Pacific – in particular, away from Japan and the US territory of Guam, which are within range of the new generation of Chinese ballistic missiles. There are 50,000 American troops stationed at the Okinawa base in Japan and 28,000 in South Korea.
The Australia and US relationship 
Australia has been one of Washington's most dependable allies, sending troops to every major conflict in which the US has fought over the past century. Until recently, though, it was regarded as geographically peripheral, experts say. With the shifting power balance in the Asia-Pacific, that is changing.
Obama is the fourth successive president to travel here, which may reflect the country's growing importance. Before George H. W. Bush visited in 1991, 25 years had elapsed since Australia welcomed a US president, Lyndon B. Johnson, in 1966.
Some 1 million people turned out to see President Johnson, including a sizable number of Vietnam War protesters. During a trip to Washington earlier that year, the Australian prime minister, Harold Holt, had reaffirmed his support for the war, pledging to go "all the way with LBJ." 
While Obama has not attracted quite such large crowds, recent polls suggest high support among the Australian public for the US alliance and for the ANZUS treaty. A poll by the Lowy Institute for International Policy, an influential think tank, found that 59 percent of Australians regard the alliance as "very important."
A welcome shift for smaller Asian countries 
Now Vietnam is one of the smaller Asian countries that want the US to be a counter-weight to China in the region. Vietnam, the Philippines, Taiwan, Malaysia, and Brunei all have territorial claims in the South China Sea, which, as well as being the conduit for $5 trillion of annual trade, is rich in oil, minerals, and fishery resources. 
The US will not build its own base in northern Australia, but will use existing facilities, including an Army base just outside Darwin that US forces will share. Analysts say that stationing troops, aircraft, and equipment in Darwin, which is only 500 miles from Indonesia, will enable forces to be deployed swiftly to trouble spots and humanitarian disasters around Southeast Asia.
Despite the trip's clear focus on China, Obama, who is about halfway through a nine-day trip  to Hawaii, Australia, and Indonesia, has denied that the increased military presence in Australia is part of a plan to contain China. Beijing, however, has responded coolly to the announcement. The state news agency Xinhua said Thursday that "every country in the region … has good reason to question the United States' ambition."
'Riding two horses'
Tom Switzer, a research associate at the University of Sydney's US Studies Centre, says Australia has to balance competing interests in the power struggle between the US and China in the Pacific. While Australia has looked to its powerful Anglo-Saxon ally to guarantee its security since World War II, China – which buys vast quantities of Australian iron ore and other raw materials – is its biggest trading partner.
"Australia is faced with a difficult diplomatic game of riding two horses simultaneously," Mr. Switzer says.
Although US troops have been visiting Australia since 1907, and the two countries regularly conduct joint training and exercises, the main US military presence currently consists of a jointly run secret satellite tracking station at Pine Gap, in the Northern Territory, and a naval communication station near Exmouth, in Western Australia.