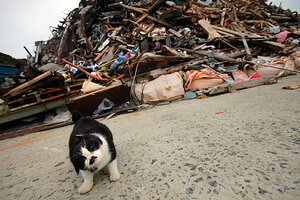 Itsuo Inouye/AP
3.

Garbage: tons removed, tons remain

Tons of rubble created by the disaster: 22.6 - 25

Estimated tons removed one year later: 70 percent (estimated)

In the wake of the tsunami, mountains of trash were left behind, more trash than towns would normally dispose of in a century, the Monitor reported last year. Recycling it all is a daunting task. No country has ever faced such a mammoth recycling job. First step: clearing the rubbish from the streets to makeshift waste centers. Next step: recycling centers.