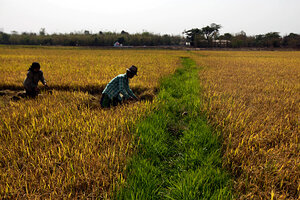 Altaf Qadri/AP
Ending western sanctions and economic woes

For 26 years, until 1988, the military government led by Ne Win imposed what it called a "Burmese Road to Socialism" which bore many similarities to North Korea's economic path and led to many of the same appalling results. Subsequent efforts to open up the economy bore some fruit, but as more and more senior Myanmar officials traveled around Southeast Asia, the realization of just how far behind this country fell sunk in. Fifty years ago Burma was the biggest rice exporter in the world. Today it is the poorest country in Southeast Asia. They see this as a matter for national shame.

Myanmar has committed itself to joining the Association of Southeast Asian Nations (ASEAN) common market in 2015; if it is going to be able to catch up and keep up it needs to bring its economy into the 21st century, and to do that it needs international help from as many directions as possible. That means an end to western sanctions – and that means democratization, or at least enough to satisfy the West.