Kim Jong-un's 6 super-duper titles
Kim Jong-un leads North Korea, but not as president. That title is held by his late grandfather – for eternity. Kim Jong-un's late father, meanwhile, holds the title of 'Supreme Leader' for eternity. For now, the younger Kim has picked up a number of his own titles in the seven months since he became the country's leader. Here are a few: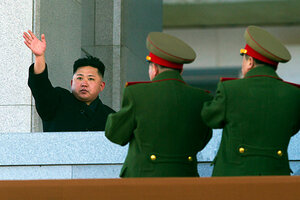 David Guttenfelder/AP
1.

Marshal of the Democratic People's Republic of Korea

Seven months after taking over as the leader of North Korea, Kim Jong-un was officially named the country's top military leader on July 17, 2012. North Korean media reported that the promotion was decided in a meeting of top government, military, and Workers' Party officials.

The news was announced in dramatic fashion, according to media reports. First, the North Korean government sent a special TV and radio broadcast alerting the nation that it would make a "special announcement" around noon. The last time such a "special" announcement like this had been made in advance on state-run television was when Kim Jong-un's father Kim Jong-il died in December. Monitor correspondent Donald Kirk reports that circumstances of the announcement and the bestowal of the title were designed to hammer home the new leader's control.
He still has one more rank to which to aspire – that of "great marshal," the title held by his grandfather, Kim Il-sung, and his father. Meaningless though the difference between "marshal" and "great marshal" may appear, the inference is that he is rapidly falling into place as heir to the dynasty – and may soon reign on their same level.