Test passed? Japan's earthquake causes quick response near Fukushima
Coming so soon after Sunday's tunnel collapse raised questions about Japan's infrastructure, the absence of major damage from today's quake shows Japan's level of preparedness for them.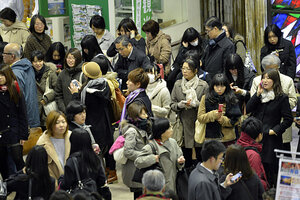 Kyodo News/AP
For thousands of people living in the region of Japan devastated by last year's triple disaster, Friday's earthquake served as an unwelcome reminder of their vulnerability to sudden, violent seismic shifts – and as a warning to the rest of the country.
But thanks in large part to the sheer force of the March 11 tragedy, and painful memories of its human toll, people in the vicinity of the quake's epicenter knew what to do as soon as TV stations issued a tsunami warning: Drop everything and head to higher ground.
As darkness descended, the sense on this occasion was one of relief, not the despair of 21 months ago. Two hours after the northeast coast was rattled by a magnitude-7.3 earthquake at 5:18 p.m. local time, it appeared that the region had escaped unscathed.
Coming at the end of a week in which questions were raised about the country's infrastructure following last Sunday's tunnel collapse, the absence of major damage from today's quake was testimony to Japan's level of preparedness for powerful earthquakes – specifically, the unrivaled ability of its specially designed buildings to withstand violent seismic activity that would have far more devastating consequences in other countries.
Japan's advanced warning system gave people in the area as many as six minutes to take precautions between the first report of the quake and estimate of the its size and the actual arrival of the earthquake.
There were no signs of major structural damage, only a handful of reported injuries, and, while a tsunami did arrive, at a little over 3 feet in height, it paled in comparison to the huge waves that laid waste to the same area last year, killing almost 20,000 people and leaving hundreds of thousands homeless.
Remember 2011
A third potential source of danger, the Fukushima Daiichi nuclear power plant, also withstood Friday's earthquake. The plant's operator, Tokyo Electric Power, said it had found no signs of damage to the site's crippled reactors or of radiation leaks.
Workers at the plant, who are struggling to treat and dispose of huge quantities of contaminated water used to cool the reactors before they can begin the long, dangerous process of removing melted fuel, were ordered to take shelter inside the facility. No one was injured, according to plant workers.
But any notions that the battered northeast had seen the end of new fallout from last year's disaster were quickly dismissed when the meteorological agency announced that Friday's quake was not the result of fresh seismic activity, but an aftershock from March 11.
There were other reminders of the tragedy after Friday's earthquake struck out at sea, 176 miles east of the city of Sendai: TV announcers imploring viewers to remember last year's quake and tsunami, and the appearance on-screen of red and yellow lines marking out the areas most at risk. 
On Friday, as on the day of Japan's worst disaster in more than six decades, the initial quake was followed by powerful aftershocks and the ever-present risk of another tsunami warning.
Narita Airport closed briefly for safety checks and phone lines were temporarily jammed by the sheer volume of calls. Several much smaller tsunami waves, measured in inches, arrived in other parts of the northeast coastline, including Soma city, which lies just outside the 12-mile evacuation zone imposed around the Fukushima Daiichi nuclear power plant.
The earthquake measured a lower 5 in Miyagi Prefecture on Japan's scale of 1 to 7, which measures the amount of shaking a quake causes rather than its intensity.
Earthquakes of that strength can cause damage to older buildings and roads that do not have strict quake-resistant features introduced after more than 6,000 people died in an earthquake in Kobe in January 1995.
Japan is one of the world's most earthquake-prone countries. Due to its location on the Pacific Ocean's "ring of fire," it accounts for about a fifth of the world's earthquakes of magnitude 6.0 or higher, and experiences at least one tremor every five minutes.
Added anxiety
Buildings swayed for several minutes as far away as Tokyo; nearer the epicenter, where last year's tsunami turned coastal towns and villages into near-deserted swathes of flattened land, people quickly headed to higher ground.
For all the relief that catastrophe had been diverted, Friday's earthquake only added to the anxiety felt by the 325,000 people in the region still living in temporary accommodation. (Read more about life after Japan's 2011 quake, tsunami, and nuclear meltdown)
"I was in the center of the city the very moment the earthquake struck," Chikako Iwai, a resident of Ishinomaki, in Miyagi Prefecture told Reuters.
"I immediately jumped into the car and started running toward the mountains. I'm still inside the car. I have the radio on and they say the cars are still stuck in traffic. I'm planning to stay here for the next couple of hours," she said.