Calm in Guam as islanders doubt North Korean missile aim
The US territory's crisis-ready inhabitants are trusting God, Uncle Sam, common sense, and poor aim to keep them safe from a ballistic assault by North Korea.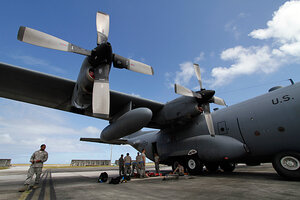 Koji Ueda/AP/File
Doomsday missives aside, the beat goes on in Guam.
Yes, North Korea is threatening to attack the island. And, yes, this 30-mile stretch of terra firma at the south end of the Marianas archipelago may be well within missile range. But the American territory's crisis-ready inhabitants are trusting God, Uncle Sam, common sense, and poor aim to keep them safe from a ballistic assault.
This isn't the first time the repressive, isolated regime has flaunted the notion that Guam is within striking distance. Nor is it probably the last time Guamanians will hear that North Korea lacks the technology to make a direct hit. Islanders don't treat the current round of vitriol lightly, but aren't paralyzed by it either.
"When I became a reporter, the North Korean threat was one that I was deeply interested in," says Clynt Ridgell, a local TV news anchor. "Over the years, however, I've begun to see that these threats are usually empty. Every couple of years it seems that the DPRK [the Democratic Republic of Korea] will ramp up the rhetoric ... usually because they want some sort of aid or they just want the US and the world to take notice," Mr. Ridgell says, referring to the official name of North Korea. "Then things will calm down, everything goes back to normal and we all seem to forget that North Korea even exists."
You might say Guam has lived through worse.
On Dec. 8, 1941, Japan bombed US Guam. It happened within hours of the Imperial attack on Pearl Harbor that drew the United States into World War II, and soon drove the nation to retake Guam by force. By 1941, the island had already been a US possession for two generations as a spoil of the Spanish-American War, after which Spain had ceded the Philippines, Puerto Rico, and Guam to America. Spain conquered Guam during the Age of Exploration and ruled it from the Renaissance until 1899. Since then, the island has often been described as a political pawn in a world ruled by superpowers and has weathered tropical storms, floods, and earthquakes along the way.
On the 61st anniversary of the Japanese invasion of Guam, Super Typhoon Pongsona ripped through the island, knocking out utilities and causing nearly a billion dollars in damage. An 8.1 magnitude earthquake rocked the territory in 1993, compromising the island's typhoon-ready concrete superstructure and forcing the demolition of a destabilized hotel months later. More recently, the tsunami that devastated northern Japan in March 2011 kept Guam on red alert for several hours.
Guam's hard-won battle scars may be a bit too calloused to feel the sting of amped up rhetoric streaming out of the Democratic People's Republic over the past two weeks. So far, the beat of war drums hasn't been frightening enough to keep locals from living their everyday lives. Over the past weekend, residents enjoyed sunny days paddle-boarding on the beach, barbecuing, and catching up on errands.
Visitors, too, are still keeping their itineraries. The island hosted the Guam International Marathon on Sunday, welcoming many residents and several Asian distance runners, including top finishers from South Korea and Japan. And Wednesday morning local media outlets were reporting Guam's highest visitor arrivals in 50 years, bucking the perception of an island in the crosshairs.
Tourism is one of Guam's economic twin engines. The other is the federal government, which maintains Naval Base Guam in the south and Andersen Air Force Base in the north. Andersen in particular has featured prominently on the DPRK's recent purported kill list.
Remote as the chance of attack may be, the faithful remain vigilant. Archbishop Anthony Apuron welcomed congregants to the Dulce Nombre de Maria Cathedral Basilica in the capital city of Hagåtña in a mass for world peace on Sunday morning and asked parishes across the island to pray along.
"I was a little surprised ... when the priest started off his Homily talking about the situation in Korea," says John Ryan, a local business consultant who attended church service in Yigo, near Andersen. "The priest pointed [out] how strong faith can overcome fear.  I think many people in this predominantly Catholic island relate well to that perspective as they think about what is happening on the Korean peninsula," he says.
"While I have heard people talk about the damage and loss of life that a missile strike could cause to our small island, I do not know anyone who has changed their daily routine," Mr. Ryan said after an active weekend with friends. "Of course we are paying close attention to what is happening in Korea, but I think people here are just as concerned for the safety and well being of the people of South Korea. If I had to guess, I'd say for most Guamanians our thoughts and prayers are with the people of Korea first, if for no other reason than our faith and trust in the US and its allies to diffuse the crisis, or to respond appropriately if diplomacy fails."