Javascript is disabled. Quiz scoring requires Javascript.
How much do you know about Gangnam style?
Pop music sensation Psy is the first Korean solo artist to have a top-selling US single. He swept the US with his hit single "Gangnam Style" in 2012. He's taught his signature horsey dance to everyone from the UN's Ban Ki-moon to Britney Spears. But how much do you know about the artist?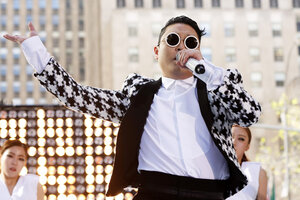 Lucas Jackson/REUTERS
1.

Psy's song "Gangnam Style" surpassed what YouTube video to become the most watched video of all time?

LMFAO - Party Rock Anthem

Charlie bit my finger - again!