'The Forgotten War': Five facts you should know about the Korean War (+video)
July 27, 2013, marks the 60th anniversary of the Korean Armistice Agreement, which ended the three-year-long Korean War. Although the conflict claimed some 36,000 American lives, it is sometimes referred to as the Forgotten War. This year, however, President Obama has declared Korean War Veterans Armistice Day on Saturday, the anniversary. While the nation remembers, here are five things you should know about the conflict and armistice.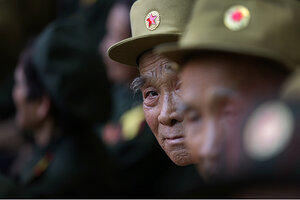 Wong Maye-E/AP
1.

The truce took two years to negotiate

Soviet Ambassador to the United Nations Jacob Malik first proposed a cease-fire in 1951, and the first negotiations began in July of that year at Kaesong. However, talks broke down in 1952 over the issue of how to deal with prisoners of war. Meanwhile, hostilities continued. It wasn't until April of 1953 that the issue was resolved and an agreement was reached and signed in July. Though South Korea refused to sign, fighting ended soon after.