Javascript is disabled. Quiz scoring requires Javascript.
Protests and coups: Is Thailand still the 'land of smiles?' Take our quiz.
Thailand's beaches, temples, and nightlife attract millions of foreign tourists. Few stay long enough to learn the language or engage with the country's complex political history and spicy popular culture. Are you the exception?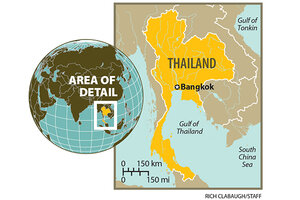 Rich Clabaugh/The Christian Science Monitor
1.

Prior to 1939, Thailand was known by what name?