Australia to allow (some) asylum seekers ashore. Why now?
A court challenge could invalidate Australia's strategy of pushing boats with asylum seekers back before they enter its waters.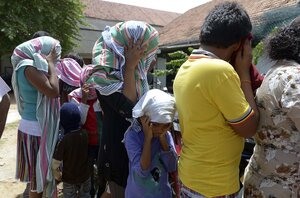 Reuters
The Australian government's record of six months without an asylum seeker reaching the mainland is set to end tomorrow when a group of 157 mainly Tamil boat people are scheduled to be transferred to a remote detention center for processing.
The group has been held on an Australian border patrol vessel in the Indian Ocean for the past month after Australia's highest court blocked the government's plan to return the passengers to their homeland. The court questioned the legality of the controversial policy of intercepting and turning back boats with asylum seekers on board before they enter Australian waters.
The government insists tomorrow's transfer is not a softening of its hard-line immigration policies. Since January, the government has deployed the Navy to force boats away from Australian waters. Others say the government is backing down ahead of an Aug. 5 hearing by the High Court's full bench on the case, which could invalidate the government's policy.
"The government was clearly motivated by the fear of what might happen if the High Court ruled that any asylum seeker rescued at sea — either within or outside Australia's migration zone — would have to be processed on the mainland," says William Maley, director of the Asia-Pacific College of Diplomacy at the Australian National University. 
Temporary deal
Australian Immigration Minister Scott Morrison said Friday that he had reached a deal with India during a visit there this week to grant its officials consular access to the detention center where the asylum seekers will be transferred. The officials will identify Indian nationals who could then be returned to their home country and will consider the return of those who may be Sri Lankan nationals.
Mr. Morrison vigorously defended his government's "push back" strategy, and said this deal does not change it.
"They will not be resettled in Australia. That is the policy of the Australian government and there is no change to our policy on any front and more importantly there is no change to our resolve.
"In July last year 48 boats turned up with 4,236 people. And people died. That was this month a year ago. Never, ever under the Abbott government will we return with that chaos and tragedy … that is the position of the government," he added.
Mr. Maley questioned whether granting consular access by Indian officials to the boat people before their claims were investigated might jeopardize their case for refugee status.
Held in windowless rooms
The boat carrying the asylum seekers who will land in Australia tomorrow left Pondicherry in southern India around June 11 and was intercepted on June 29.
It is believed that the 157 mainly Tamil asylum seekers from India and Sri Lanka will be flown to the Cocos Islands, and from there to the Curtin detention center in remote Western Australia.
The group, including 37 children, has been locked in windowless rooms for 21 hours a day, in bunks that stack four high, according to the government's defense in the High Court case. They have had no access to qualified interpreters and have not stated their claims for protection.
The Aug. 5 hearing before a full bench of the High Court will determine if the government had the power to intercept their boat, and deliver them somewhere other than Australia. It is not clear how today's developments will impact the hearing.
Lawyers for the group have argued Australia's obligations under international and human-rights laws apply as much as Australian law on the high seas. They argue that Australia should give the asylum seekers a fair hearing and not send them to a country such as Sri Lanka, where they could face persecution.
"We have serious concerns about the 'Stop the Boats' policy the Australian government is implementing at great human cost and great human suffering. The stated aim of that policy is to save lives at sea," Hugh de Kretser, a spokesman for the asylum seekers' legal team, told ABC Radio. "The way you do that is not by inflicting great cruelty on the people who survive that boat journey. The way you do that is by working properly with our regional neighbors to provide safe pathways to protection."
Australia uses offshore detention centers in Papua New Guinea and the South Pacific island nation of Nauru to process asylum seekers. It argues that many asylum seekers are economic migrants seeking better opportunities, rather than refugees fleeing persecution.